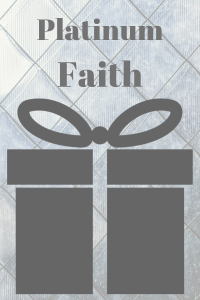 How is faith like platinum?
Here are some interesting facts about this metal:
Platinum is a silver-white metal — it was once known as "white gold." It is extremely resistant to tarnishing and corrosion (which makes it known as a "noble metal") and is very soft and malleable, making it easy to shape; ductile, making it easy to stretch into wire, and unreactive, which means it doesn't oxidize and is unaffected by common acids.
Platinum is highly valued and has a wide range of uses.
Platinum is more than ten times rarer than gold.
Recent research has shown platinum to inhibit the growth of certain cancerous cells.
Did you know platinum never tarnishes?
Platinum contains lessons about the strength, value, and protection of this gift from God – FAITH.
What is Platinum Faith?
Platinum Faith is actually a new book – released October 1 – written by two good friends and sisters in Christ: Michelle Medlock Adams and Bethany Jett. Their words found in this book inspire and made me wonder more about the quality of faith, especially when compared to the element platinum.
This book contains honest personal examples of living with platinum faith that will inspire your own self-reflection.  Each chapter is organized into the platinum property, platinum promises, how to live brilliantly, platinum project and thoughtful discussion questions that would be helpful either as individuals or within a small group.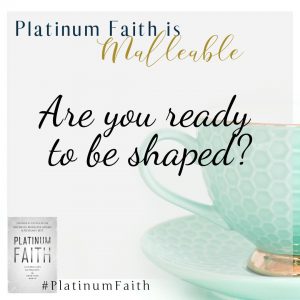 Another strength in this book is its strong Bible teaching what leaves the reader full of hope and encouragement.
Chapter titles include You Can Withstand the Heat, You are Precious, You are Malleable in the Father's Hands, and You are Authentic.
Living a life of faith means never knowing where you are being led – but it does mean loving and knowing the One who is leading. It is literally a life of faith, not of understanding and reason – a life of knowing Him who calls us to go.
Oswald Chamber
This is a great book gives you a fresh new perspective on living a life of faith.
Living a Platinum Faith
How do we apply this type of faith to our daily lives?
Remember who God is as our Almighty Creator.
Remember who we are – beloved children of God – created and given the gift of faith – precious, strong, and useful in many ways.
Remember to visualize holding this gift, unwrapping faith with anticipation, joy, and knowledge that faith is real, present, and ours to employ for the work in God's kingdom. We don't just hold faith, faith holds us.
I like using the word platinum to describe God's gift of faith and know this description deepens and strengthens my spiritual journey.
How do you describe your faith? Share with us a word or two that helps you on your spiritual journey.