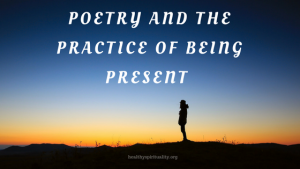 Poetry and the Practice of Being Present
I love Advent because of its invitation to pause, be still, be present. The Christmas rush, unrealistic expectations, and chaotic commitments consume all our attention in December in contrast to the peace and quiet joy of the manger scene. Poetry pauses the pandemonium.
I stopped this week and drank in poetry. I discovered two poems that calmed my spirit and refreshed my soul.  Both were written by William Stafford, a name I knew but didn't know much about.
Who was William Stafford?
William Stafford was an American poet who lived from 1914 to 1993. His first poems were not published until he was 48, then he wrote an astonishing 67 books, including almost 60 books of poetry in the next 33 years. These books included 3,000 poems – a large number on their own but just a fraction of the some 22,000 he wrote.  He wrote a poem a day until he died. WOW! He wrote the first poem I share here today just two days before he died.
Poetry by William Stafford
You Reading This, Be Ready
Starting here, what do you want to remember?
How sunlight creeps along a shining floor?
What scent of old wood hovers, what softened
sound from outside fills the air?
Will you ever bring a better gift for the world
than the breathing respect that you carry
wherever you go right now? Are you waiting
for time to show you some better thoughts?
When you turn around, starting here, lift this
new glimpse that you found; carry into evening
all that you want from this day. This interval you spent
reading or hearing this, keep it for life –
What can anyone give you greater than now,
starting here, right in this room, when you turn around?
This poem's haunting words remind me "now" is one of our greatest gifts. Waking up, turning around, savoring the moments we hold. Pay attention to the simple beauty around us. What a great way to behold Advent.
When I Met My Muse
I glanced at her and took my glasses
off–they were still singing. They buzzed
like a locust on the coffee table and then
ceased. Her voice belled forth, and the
sunlight bent. I felt the ceiling arch, and
knew that nails up there took a new grip
on whatever they touched. "I am your own
way of looking at things," she said. "When
you allow me to live with you, every
glance at the world around you will be
a sort of salvation."
And I took her hand.
The writer in me loves the concept of the muse. The creative spirit of God buzzing around us, waiting for us to slow down enough so she can alight onto our pacing hearts and light up our imaginations.  The muse brings insight into the scripture as I read the story of Jesus' birth with anticipation and hope. With her help, I discover nuances I never knew before and dig deeper into God's amazing story. Taking the muse's hand awakens me to gifts God has all around us.
Thinking this afternoon that one reason why these words struck me is they match my word of the year – attention – I am paying attention to the now, the muse, the delights in my life in new ways this year.
I haven't settled on a word of the year for 2018 yet. I am still seeking ideas and holding them up lightly to God for direction.  Have you selected a word for 2018 or as some people say, has a word found you yet?
Here are these two poems in downloadable printable – my gift to you.
How does poetry invite you to slow down in busy seasons? What in either of these poems stirred your spirit?