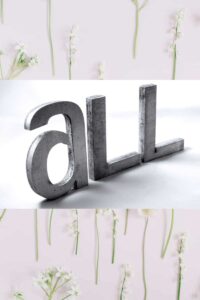 All is my word of the year. All walks with me. Shows up unexpectedly in books and conversations. Stops me and says, "Hey, take a moment and listen. I have something to tell you."
I am fascinated by having a relationship with one simple word. A word of the year becomes a companion, a wise fellow traveler, and a fun sidekick. I think that is what surprises me the most about this practice – a word of the year isn't all serious, deep, dramatic lessons – the word sparkles with joy and smiles too.
I hunt for "all" in stores. Maybe finding a great sign. A pin. Or special greeting card expressing this word in a creative way.
I am one who overthinks the past and lives in the future, planning, organizing, trying to control out of fear of what might happen next. All grounds me in the present. All is what we have right now. All is all that matters.
Pondering the word "all" this year has given me a new lens to see my life and the world. All has widened my view. Given me hope. Reminded me that I don't see all, but all will eventually become clear. All will complete the story.
I have discovered this year a new word to use in my prayers. All invites my heart into worship. God's name is All. He is my All. He knows all. He creates all. He imagines all. He is All.
I wasn't excited about this word in January but now have a trusted friend journeying through 2022. I think "all" may stick around into the future periodically astonishing me with its wisdom and charm.
Today I am grateful for "all."
If you have a word of the year, what has it spoken to you lately?
If you don't do this practice, how are you growing this year?