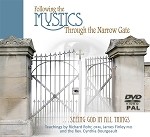 The following is an example of this in-depth and inspirational wisdom:
"If you keep listening to the love, if you keep receiving the love, trusting the love – even with all your limitations, with all your unworthiness, with all your limited intellect or whatever you feel holds you back – you start to experience within yourself a sense of possibility.
Whatever life is inviting you into, you have this sense that is still okay and even better, that you can do it.
As Mother Teresa loved to say, "The only real success is faithfulness." To be faithful to this inner love is in itself the greatest success. It is of itself the major possibility. No outer successes are henceforth necessary to be happy.
This liberation is not a need to be outrageous or rebellious. It's so much better than that. It is permission to be the "image and likeness of God" that you already are! We each are unlike any other image or likeness.
God is saying to each of us, "All I want is for you to return to the Sender who you really are!" Ironically, it takes most of our life to find that True Self, to accept it, and to return it to the Manufacturer—now with our own signature attached."
This passage reminds me to be gentle with myself. God wants me as He created me. I shouldn't stay away from him due to my sin, my imperfection, and my unworthiness.
This quote gives me hope. My faithfulness pushes open God's already unlocked and accessible open door. He is waiting for me to come. Just as I am.
Rohr's words invite me to embrace the possibilities of true life with God and permission to dance freely in his love and delight.
And I am thankful.
What do these words say to you?