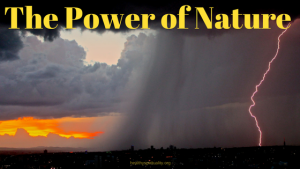 Behold the power of nature!
Nature takes center stage in this month's reflections and gathering of thoughts. Normally I share a variety of ideas each month, but today instead I am overwhelmed by nature so will focus only on one topic.
Each month I pause and look back at what I am discovering, learning, and exploring in life – I call these my monthly musings. Living this reflective practice helps me slow down and savor this precious gift of life we've been given and all the gifts to be discovered given by such a loving, gracious God. Capturing these special moments gives meaning, depth, and delight to life.
Usually at this point on this post, I mention my Monthly Musing Journal available on Amazon or the free downloadable one sheet to record your musings. But today I am more reflective and feel like skipping them this month.
My Monthly Musing lesson learned and my one and only topic this month:
Behold the Power of Nature!
Two weeks ago, we were all enthralled by the solar eclipse. We reconnected with neighbors, sharing special glasses, amazed at the sun and the moon dancing above us. For a moment, world tensions, political arguing, and conflicting opinions disappeared. Wonderful conversations occurred in person and on social media, uniting us as one group, astounded by an act of nature.
Behold the power of nature.
One week later we arrive again into the awe of nature but this time, its destructive force and uncontrollable devastation with the flooding in Texas. Does anyone else see the irony of these two events occurring so closely together? My emotions drain, my head swirls, and my heart is stretched wildly by nature this month.
Nature, with its fragile yet resilient magnificence, models for us what aliveness means and reminds us that we are mortal.
Maria Popova
The unprecedented flood in Houston isn't a wonder, but a nightmare. As a former public health officer trained in disaster response, my heart cringes knowing the reality of those in charge making decisions that others criticize, trying to do your best when your best doesn't begin to do enough, quickly enough, and the utter exhaustion of body and spirit all are experiencing there.
My monthly musing? Witnessing the power of nature reminds me to appreciate home. One of our basic needs as humans is shelter and safety. So many people have had their security and protection ripped away. The loss is shocking to families and to our souls.
And it's the not knowing – when the rain will stop. When the water will go down. What will be left? Will insurance cover this mess? Texans face a very long recovery period and a life event scar that will heal, but slowly and painfully.
Compassion tugs at my heart. Those hit the hardest had the least I am sure; many already living in the margins of poverty. They lived with some brokenness and lack of necessity on the fringe – we need to help with prayer, finances, and if called upon, time and service.
Resiliency – I know people from Texas – they will survive, help one another, and rebuild. Stories of neighbors helping neighbors and ongoing service of complete strangers have been inspirational. Great sense of humor too. On NPR this morning, Representative Pete Olson from Texas said, "I had a reporter on a boat with a guy being rescued. The guy said, hey, man, you want a new home with a huge pool? I've got a deal for you. That's how Texans operate in storms."
Homes are so much more than shelters, too. Our homes hold memories, laughter, and love. Just yesterday my daughter called me trying to remember how we used to have fondue parties when they were young. I made a pizza dip and they used fancy fondue forks to put pieces of  French bread into a corning ware dish full of sauce.  If the bread dropped into the goo, they either had to kiss me or compliment their sibling. I got lots of kisses with that meal and a priceless memory from our home. I took a moment today to look around that kitchen where this memory occurred and said thank you.
What would you grab if the water rose that fast? Look around for a minute and embrace the gift of what you have. Reminds me what is precious and irreplaceable for me. Helps me appreciate all that I have. Even makes me realize how much stuff I own that I don't need.
Most importantly, these moments of powerful nature remind me to quit whining. Life is to be cherished. Things are replaceable.
Home is one of our most sacred gifts.
[bctt tweet="Home is one of our most sacred gifts. Jean Wise " username="Jeanwise"]
The power of nature brings me to my knees in prayer. I am awed by the wildness of God in his creativity in the sun and moon and shadows and light. I wonder how much man's misuse of God's creation causes these weather extremes that are erupting more often in our lifetime. Praise. Repentance. Pleas for help and safety. Gratitude. All elements of prayer.
"Our Father, I think of all the pain and heartache, the tears and sorrow, the greed and cruelty unloosed around the world.
Help me to be an instrument of Thine to alleviate the pain, by this day:
returning good for evil,
returning soft answers for sharp criticisms,
being polite when I receive rudeness,
being understanding when I am confronted by ignorance and stupidity.
So may I, in gentleness and love, check the hasty answer,
choke back the unkind retort,
 and thus short-circuit some of the bitterness and unkindness that has overflowed Thy world.
 I ask this in the name of Jesus, who alone can give me the grace so to act. Amen."
Prayer by Peter Marshall
How has the power of nature affected you this month?