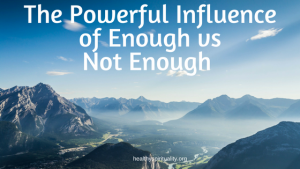 Am I enough? Why do I continually feel like I am not enough?
Do you struggle with inadequacy, lack of confidence, and feeling like you are always coming up short compared to others?
When I listen to others in spiritual direction, this is a common topic. In our Sunday School small group, I hear others living out of scarcity, not abundance. I know I often see the world with the lens of not-enoughness.  Many of us do.
Not Enough
Not feeling like you are enough appears in many formats:
Thinking others are better than you.
Striving to prove yourself all the time.
Hearing your self-talk  – "Why do I always." "There you go again…"
Difficulty in making the right decision, the best ones for yourself.
People pleasing behaviors.
Assuming others' whispering or laughter is about you.
Assessing your value in light of the world's definition of success and achievement or by hardwood floor and granite countertops on Fixer Upper or your singing voice compared to the soloist at church.
Not valuing your gifts and calling.
What's wrong with me?
Undesirable.
Unaccepted.
Unworthy.
I know this not-enoughness is my default, ego-sensitive mode set from my childhood. It rises from my brokenness and from others intentional and accidental hurtful words.
And today's culture doesn't help much. Models airbrushed to perfection. Facebook ads screaming to earn more money, manage my time better and build the perfect relationship. The world tells us our value is our title, our income, our bigger house and car and the ideal weight.
Life is an uphill battle of not being enough, not having enough, not knowing enough, not being connecting enough. Not-enoughness engulfs us. I wrote about being vulnerable and imperfect in this post from three years ago.
And it is easy to believe you are not good enough if you listen to everybody else.
Mackenzie Astin
Enough
2006 was a pivotal year for me in this internal battle.
All three kids were in transition – moving, marrying, graduation. Yep, empty nest hit all at once.
On top of that I retired from nursing – my life's work. I left a position with a title, a decent wage, and some name recognition.
Too many years of taking care of everyone else and not myself. I was overweight and out of shape. Physically and spiritually.
And to add to this, I got an AARP membership card in the mail.
I was old. I was fat. I was a nobody.
Overnight, I lost my identity. Who was I without the façade of my labels or when no one needed me anymore?
Who was I?
My ego naked, I felt like a snake losing its skin. All I could see was the old dead casing, empty, dying and definitely, not enough.
Sounds awful, doesn't it? But it was one of best things to ever happen to me.
I found out I was enough with my true identify as a beloved child of God. With God there is always enough, and more than enough.
I remember one morning whining in my prayers about this bout of inadequacy and crisis of identify.
I prayed. "Honest, Lord I am really trying to be good."
A loving, gentle whisper engulfed my heart:
"Jeanie, you are already good."
That was the moment I felt peace. Healing. Whole. Loved. Enough.
As a beloved child of God, I didn't have to struggle, grapple, and strain towards the unattainable goal of perfection.
I was loved.
I was accepted.
My identity is a beloved child of God. Not my title. Or my work. Or my responsibilities.
My value isn't found in my HGTV home, the latest gadgets and fashionable clothes, or if my make-up is perfect.
We are more than just okay, we are loved children of God.
I am enough because God is enough.
God is enough.
God is more than enough.
Lord help me believe the truth about myself, not matter how beautiful it is.
Macrina Wiederkehr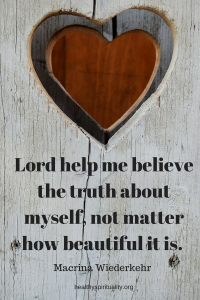 It's Time to Embrace Enough
Living from a place of being enough is a challenge. I still hear the old voices, notice negative self-talk, and grapple with shouting hard to resist consumerism.
But I am choosing daily to know who God is and choose to live beloved. I remind myself every morning and night – God is enough.

Every moment is enough too. Just last week Michelle DeRusha shared this wonderful post about How to choose the moment.
And I discovered this wonderful You tube video that may make your cry as you watch woman realizing they are enough. If you are reading this by email you may have to go the blog to see the video. I hope you do watch it. It is powerful.
"Letting go of what you don't need and who you are not, then when you get little enough and naked enough and poor enough you'll find that little place where you are and is ironically more than enough and is all you need."
Richard Rohr
Let's talk about the ongoing challenge of enough vs not enough. How does this speak to you? How can we help others who struggle with this issue?