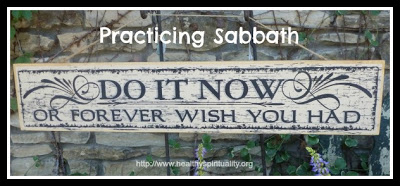 For the last several years I have written in my journal my desire to be more faithful in keeping the Sabbath.
"Remember the Sabbath day, to keep it holy."
I am a failure at keeping the Sabbath. 
I let my ever present to do list, my addiction to being online and my own ego driven desires rule that day. I focus my attention of the world instead of on God. Doesn't honor the Lord much, does it?
Then fellow blogger and Christian sister,
Shelly Miller
wrote about her struggles with Sabbath keeping and began a great series – Surrendering to Sabbath – on her blog,
Redemptions Beauty.
With rest, I noticed God-moments I might have missed before. My prayers grew clearer. Studying the Scripture became more meaningful. When life was rushed, I felt like I was reading a cookbook backward – nothing connected or made sense. Now I felt more attuned to God's voice in the Bible.
Sometimes you have to slow to a stop and reset before you can experience divine presence. My hunger to know God increased as I learned to develop a healthy rhythm in life and rediscovered the wonder of rest.
 ~Margaret Feinberg, Wonderstruck, Chapter 4-A Sanctuary in Time
I hunger for those God-moments I am missing. I want to hear God's voice. I need to rediscover the wonder of rest.
I fail at Sabbath keeping. But Shelly's weekly emails pick me up and stir that God thirst within me.
So I sit with Sabbath. What do I do with you, dear day of rest?
I decided I needed to define what kept me from Sabbath and it all boiled down to what I wrote at the beginning of this post: my focus on my busy, endless to do list and the amount of time I spend online with emails, commenting on other blogs and reading the Internet. My distractions determined my behavior and attitude on that day and to be honest, Sunday became to me a day just like every other day. Something had to change. This was God's day, not mine.
My plan: to intentionally stay offline from Saturday evening through midday Sunday. I would ignore the shouts of bellowing and hollering from my noisy list of things crying for attention. I would focus more on God through contemplative prayer, in-depth readings and journaling.  I would pay more attention to my family, fully listening to them, instead of worrying about what else needed to be done.  I would BE, not DO.
The first week?  I failed. No, I failed completely. Even forgot I was going to try this new experiment.
The second week? Another F on my report card. It is hard to admit how addicted I am to being online; sometimes I even look at my Iphone in the middle of the night, reading USA Today and my email. How ridiculous is that.


This past weekend? I did a little better. And dare I say, I felt a deeper level of peace in my soul. I nibbled at Sabbath.  Mmmmm, I liked the taste of this refreshing sweet nourishment and will come back for more.
I practice Sabbath, but not perfectly. And I am okay with this slow step-by-step dipping my toe into this new habit progress.
"We learn by practice. Whether it means to learn to dance by practicing dancing or to learn to live by practicing living, the principles are the same. 
One becomes in some area an athletic of God."
Practice. Spiritual Practices. Practicing implies slow learning, making mistakes and trying again.
I am practicingSabbath, not perfecting it. I don't want Sabbath keeping or really any of my time with God to be out of a sense of duty. I want to know God better because of love. Because of who He is.
Research shows practice does not make perfect. No one here on earth is perfect. Practice doesn't make perfect; practice creates patterns. The more that you practice something, the more likely you are to do it that way again in the future.
 I am no longer failing at honoring the Sabbath; I am practicing keeping the Sabbath.
I am interesting in hearing how you keep the Sabbath. Let's share some ideas.