Pray for the peace of Jerusalem: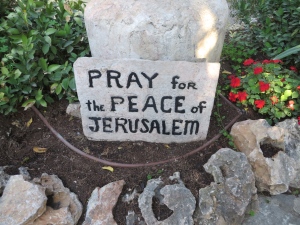 "Please pray for Jerusalem."
"Pray for peace in our land."
On our recent trip to the Holy Lands, we heard these statements multiple times.
Our tour guide asked. An employee at one of the hotels mentioned it. But it was a store clerk in a gift shop that I remember the most.
We were visiting the Garden Tomb, a pleasant walk not far from our hotel. A walled green patch in the middle of Jerusalem, its beauty, charm and peacefulness fades the fact it probably isn't the actual site of Jesus' burial.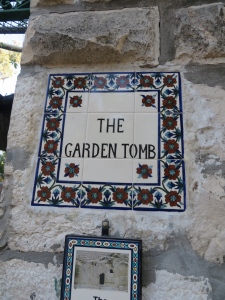 A quiet place of contemplation in contrast to the crowded chaos of the Church of the Holy Sepulcher. A nice way to spend the last day in the Holy Lands. 
Like good tourists, we entered the gift shop and found a few more souvenirs. As I chatted with the store clerk, I couldn't help notice her distinctive American accent. I politely asked her and she confirmed she was originally from the U.S.
She married a man from Israel and moved there a number of years ago. She mentioned she was Christian. Not surprising since she was working at the Christian tourist site but surprising since we had learned only 1% of those living there were Christian.
I asked her what message she wanted me to take back to America and tell others about her adopted county.
"Ask them to pray for the Christians here and all people in the Middle East. We need to wipe away the ignorance between us. We don't need any more war over here. We really need your prayers."
Powerful message – not only in her words but how passionately she said them to me.
Please pray for peace.
We left the hotel about 5 am the next morning to travel to Tel Aviv for our air flight home. As we departed Jerusalem a large full moon rose over the horizon. A same moon seen by human eyes no matter where they were born, where they lived now and what they believed.
A light from the heavens shining down on Israel, Palestine, Jordan and Syria. Shimmering on the United States, England, South Africa and North Korea. God's radiance beaming on Ferguson, Missouri, New York City, Washington DC and little villages like Edon. Glimmers of hope on people in Alabama, Florida, Oregon and Ohio.
One moon. One God. All hearts with a deep desire for peace.
Please pray for Jerusalem.
Please pray for peace.