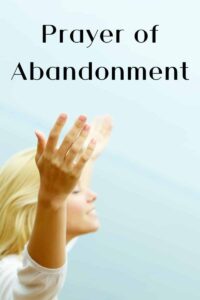 The prayer of abandonment by Charles de Foucauld has haunted me all year. The words keep appearing in readings. Its message scares me yet draws me into contemplation.  This prayer is calling to my soul.
Can I really pray this prayer? Am I honest in saying thank you in response to God doing what he wants with my life? Is this truthfully my only wish to be abandoned to God? Will I ever fully surrender my all to the All?
Part of me says yes, but my ego shivers with the consequences. I yearn to be closer to God but to be honest, my pride, personal agenda, and independence pulls me in opposite directions. I thirst to keep the eyes of my heart only on him. This prayer of abandonment requires trust and faith that I am inadequately equipped for – I am not strong enough to pray this prayer on my own.
Then I realize I am overthinking, overreacting. Fear blocks me from risking my love for God. "Just take a deep breath, Jeanie. Slow down and pray. God will take care of the results."
This prayer does hold my word of the year – all.  In fact, all appears four times. That alone is encouraging.
I sit quietly closing my eyes. I feel like I am hidden in the shadows of a large room. I hear God whisper, "Come here, child. It's ok."
I draw near. I listen for God's heartbeat syncing with mine, slowing my racing heart to match his loving heart. I tell him my deepest desire expressed in the prayer of abandonment.
Father,
I abandon myself into your hands;
do with me what you will.
Whatever you may do, I thank you:
I am ready for all, I accept all.
Let only your will be done in me,
and in all your creatures –
I wish no more than this, O Lord.
Into your hands I commend my soul:
I offer it to you with all the love of my heart,
for I love you, Lord, and so need to give myself,
to surrender myself into your hands without reserve,
and with boundless confidence,
for you are my Father.
What a beautiful prayer. This prayer helps me, helps all of us, realign our intention and our attention on God. I am repeating these words daily – sometimes with confidence, often with uncertainty, but always with hope.
What does the prayer of abandonment say to you?