Prayer
Today is the National Day of Prayer in the U.S.  Prayer is an essential tool for healthy spirituality and one spiritual practice that we can always learn more about, one to try new approaches and one that continually nourishes our soul.
How is your prayer life?
Sometimes it is hard to answer that question.  I know my intentions for this discipline are much higher, more robust and less me and more God than what I put into practice. Yet I am always seeking new ways to be with God throughout the day, to prayer without ceasing as the Bible directs us, and quiet my inner chatter to hear God.
"Prayer is an expression of who we are…. We are a living incompleteness. We are a gap, an emptiness that calls for fulfillment."
Thomas Merton
I have heard that a Gallop poll revealed in one week more Americans will pray than will exercise, drive a car, have sex and go to work. Nine out of ten people say they do pray. We "say" prayer is important to us, to our faith, for our families and community, but how often do we really talk with God?
"I have so much to do that I shall spend the first three hours in prayer."
Martin Luther
Three hours?  Wow, now that is really paying attention to God and intense time in prayer.
I often start my day in prayer and remember to say thanks as I drift off to sleep, but find myself throughout the day focused more on my calendar, to do lists and this key board and computer.
Oh, how I need more time in prayer!  I bet you do too.  We long to be with our Creator, the One who loves us, accepts us as are.  Prayer opens our eyes to new possibilities, to seeing God in all things.  Prayer clears the ringing of the world in our ears so I hear his gentle voice.  To me, prayer is like resetting the dial on an old radio so the sounds are clearer, less static, and come through strong and with power.
"Prayer helps correct myopia, calling to mind a perspective I daily forget. I keep reversing roles, thinking of ways in which God should serve me rather than vice versa."
Phillip Yancey
Yancey in his book titled Prayer summarized the practice of prayer quite nicely:
"The main purpose of prayer is not to make life easier, not to gain magical powers,
 but to know God."
I know sometimes to revitalize my prayer life, I discover the prayers written by others. They wrote the words that best expresses what I feel in my heart. Here is one that recently resonated with and within me:
"May today there be peace within.
May you trust God that you are exactly where you are meant to be.
May you not forget the infinite possibilities that are born of faith.
May you use those gifts that you have received, and pass on the love that has been given to you.
May you be content knowing you are a child of God.
Let this presence settle into your bones, and allow your soul the freedom to sing, dance, praise and love.
It is there for each and every one of us."
Teresa of Avila
Other times reading something what others have written about prayer blows the dust off my soul and awakens me.  Jim Martin recently wrote an article about "How even the busiest people can find time for prayer."  He writes:
" Often we have unrealistic expectations about how much time we will spend in prayer. Busy people usually like to get a lot "done." So we frequently set goals that are out of line with what we are realistically able to do.
To be blunt, many people assume that if they're not praying for an hour a day then it's not worth it. Or they assume that if they're not praying every single day there's no point. "Why even bother?" they think.
So first, try being reasonable. Start with ten minutes in the morning or evening. Surely you can spare that for the Creator of the Universe! It needn't be anything more than that, to begin with. You don't run a marathon before you've run around the block."
I also read this perspective/image about prayer that other day which is quite unique:
"Prayer is a lot like bleeding your pipes.
You are a powerful, wonderful creation, and God wants you to run as smoothly as possible. Sometimes things don't function correctly.
Pockets of discontent and doubt can creep into your system, and once pressure is applied it can make you buckle, shake, and sometimes pop.
 Prayer allows you to open the valve, to let the air out so that the steam of the Holy Spirit can flow through you in a continuous stream.
The more you pray, the more efficient you become in your life."
Gary Jansen
I have been experimenting with an app on my phone called IFTTT – standing for If This, Then That.  People used it for reminders, productivity and convenience. I am using it as a prayer prompt. 
I set it to send me a text message every afternoon at 2 p.m. to "Think Thankfulness. Thank you, Lord."  I smile when I read it and recall something I am grateful for, saying a quick word of thanks. A simple, but effective way to bring prayer into my ordinary moments of life.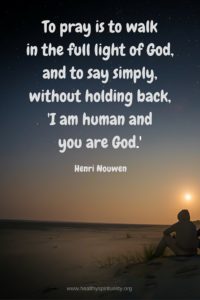 So today, let's ponder prayer and its meaning, priority, and role in our lives. A few months ago I created a resource guide called "11 Ways to Keep Your Prayer Life Fresh" and you can have it for free just by clicking the button below.
 Click Here to Get the Resource
Also – small plug here – my book Whispers – Being with God in Breath Prayers, the e-book version, is only 99 cents now through this Sunday, May 8.   The price is lower in honor of the National Day of Prayer. Breath prayers are another way of slowing down to be with God throughout the day and increasing your awareness of his presence in our daily lives.
Let's talk about prayer. How do you pray? Is there a type of prayer that has been meaningful for you? What have you learned or tried lately in your prayer practice?  Let's share with another.