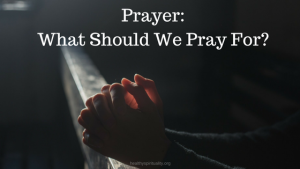 Prayer: what should we pray for? Ever stop to consider what you pray for?  In prayer we can ask God for anything and all things. The list is amazing and quite lengthy once you pay attention and name all the ways.
As we journey together in this summer pilgrimage of prayer, knowing the landmarks and the privileges of prayer inspires us in dark times and brings us joy when we dance in the light. I explored how we pray last year with this post.
Prayer:  What Should We Pray For
A great book on prayer written by Philip Yancey is called Prayer: Does It Make Any Difference? In this book he has a chapter on what should we pray for.  Here are some of his ideas:
Our Heart's Desire – "God invites us to ask plainly for what we need."  I know often people don't know how to pray or what to ask God for until they wrestle with the words to name their deepest desire. Identifying our core wants, needs, and dreams we can approach God with honesty, authenticity, and assurance. God already knows what is buried in our heart – he put that desire there – it is in the verbalization of our heart's desire that we see God's invitation too. I have discovered my heart's desire is to love God more.
Lament – We can cry out, complain, and vent to God. He understands, after all even "Jesus wept."  Eugene Peterson estimates that two-thirds of the Psalms are laments – not filled with self-pity but pleas to God and focused on God. We can describe what is angering us, frustrating us, and stressing our lives. God knows and accepts our humanity.
Confession – Sin pulls our hearts away from God and misaligns our soul to his power and presence. My ego drowns out God's voice and severs relationships. Our world is broken. But God loves us anyway. He welcomes us as lost sheep coming back, repenting our ways, and seeking his loving grace. I like this morning prayer:  "Preserve me with your might power that I may not fall into sin, nor be overcome by adversity and in all I do direct me to the fulfilling of your purpose, Through Jesus Christ my Lord, Amen."
Peace – Yancey shares an insight from Vicar Roy Lawrence who is convinced that prayer has more to do with resting than with striving. We think prayer is our effort instead of recognizing God's strength and power. In our synod's bible study this year on Nehemiah we learn his pattern of prayer always begins with praise, followed by remembering God's promises, then our petition. First we focus on God, his peace, his power, his way – then we can rest knowing he hears our requests.
God's Presence – God is present whether we experience him or not. That is his promise and our job is to trust and hold onto that promise in faith.
Compassion – "Let my heart be broken by the things that break your heart, Lord." A radical prayer for each of us to open our hearts and be filled with love and compassion.
Gratitude – Giving thanks is powerful. Thanking God throughout our prayers transforms us.
Faith – "I do believe, help my unbelief." Mark 9: 24.  Sometime these are the only words I can repeat. Asking God for more faith, for childlike trust, to leap into his arms, knowing he will catch me and bring me safe – is a perfect and appropriate request.
Grace – No one deserves grace and yet God continues to smother our souls with his mercy and love. May we all remember to love first, love more, and love always.
Preparation – Ask God to prepare you for whatever is next. Death. New work. Service. Love. Heartbreak. Ministry. Balance. No matter where our journey leads, he will prepare the path before us and be with us along the way.
Ten ideas of what to pray for.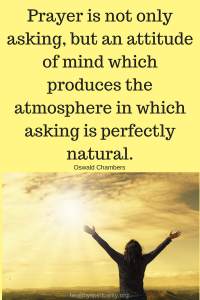 A Few More Ideas for Prayer: What Should We Pray for
Family – As I name each member of my family (friends, fellow bloggers, and even strangers) I pause and lift them up into God's light and love. Sometimes I envision the story from the New Testament of the men carrying the stretcher of the one who couldn't get to Jesus on his own and his friends carried him there for healing. Another prayer I say often is for my grandchildren, for their health and safety, for them to know and walk with God, to raise up good healthy relationships in their lives and for their future spouses. Most often I noticed when I pray for family – I experience thankfulness. Prayer wipes away any frustrations, anger or tears.
Boldness – "And now, Lord, look upon their threats and grant to your servants to continue to speak your word with all boldness." (Acts 4:29)  I know I need courage to speak up for God at times and the world definitely needs Christian voices.
Vision – to see God's presence in every moment and person. To wake me up to see the world and others through his eyes. To be inspired to do his will and to live as God intended us to live.
Praying for Difficult people – that I may love them as God does. For patience. For God's help in keeping my mouth shut. For forgiveness – forgiving me for my part in whatever contributed to the misunderstanding.
Teach me to pray – Sometimes I simply ask God; how does he want me to pray about a situation or for a person. Often, I hear one or two words – peace, wisdom, faith, discernment, love.
Learning more about prayer involves stepping back and thinking about what to pray for. What would you add to this list?
This is the confidence we have in approaching God: that if we ask anything according to His will, He hears us. And if we know that He hears us — whatever we ask — we know that we have what we asked of Him.
 1 John 5:14-15