Prayer – Why Do We Pray? How To Freshen Your Prayer Life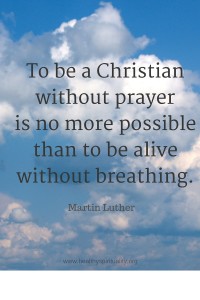 Prayer – I have really needed and thought about and lean upon prayer this past week. Prayer is a foundational practice for many of us and for me I know prayer strengthens and guides me. Have you ever thought about why we pray?
Why Pray?
We pray for many reasons.
God invites us into relationship and discussion with him in prayer. Doesn't it just blow your mind that the almighty, ever powerful God, creator of all things, desires to be with little old you and me in an intimate conversation? Wow! How could we turn down this gift of being with God?

Prayer gives us the opportunity to praise and glorify God. To stand among others throughout history, those present now, and those yet to come into human form in awe and wonder of something so much greater than ourselves.

Prayer changes us – turns our every cells, thoughts, and behaviors around to look, seek, and reach for God. Prayer makes us pliable in the hands of the Potter to shape us into the masterpiece he has planned for us.

Prayer brings us strength to get through those tough, miserable times when sometimes we can't find the words to say, but are lifted up by the prayers of others. Prayer often gives us patience and gentleness with ourselves with those tiny nuisances of life interferes with our plans and to do's. This past week, my computer decided to quit. As a writer and well-known Internet junkie, losing my main connection and tool can seem disastrous. In the light of all the other terrible things that could happen, this is minor, I know but…sigh…So in case I haven't answered an email lately or visits your blog or missed something – blame the sick machine. The good news we should get it back from the store tomorrow. When faced with a nuisance or a major upheaval, I am learning to ask: "What can come from this experience?" God will be with me and teach me through every experience and make something new from the little oops in life to the major failures and life changing tragedies.

Prayer shows me I cannot do it all on my own and corrects my path. I acknowledge I need God's wisdom and light for every breath, action, and desire. My self-proclaimed independence arises from ego and pride, not from a place of God and when I see myself acting from that dark place, I turn back to the true light. I need prayer as much as I need oxygen – both give me life.

Prayer happens even without words. The spirit of God within us connects with God, especially in times we can't find the way or we can't see the next step or confusion and doubts overcome us. Those times the spirit carries us into God. Silence is prayer also. Just being with God, gazing into his eyes of love, knowing we are loved. Mother Teresa was asked what she says to God when she prays. "I listen," she answered. When asked what God said to her, she replied, "He listens."

Prayer is an essential for my life. Not only for all the above reasons, but when I stop and realize how it has permeates every stage of my life. I pray because I was taught to pray. Others showed me the way and that makes me realize the importance of being prayer for others now. Teaching others. Writing about prayer. Talking about prayer as a part of life.
Prayer matters. Prayer is a way to seek and to know and to encounter God. It leads us into God's work in the world. God shapes us through prayer.
I pray because I can't help myself.
I pray because I am helped,
I pray because the need flows out of me, all the time, waking and sleeping,
It doesn't change God; it changes, me.
C. S. Lewis
Two Tools to Freshen your Prayer Life.
I am pleased to share with you my newest book is now on Amazon. Whispers – Being with God in Breath Prayers is available in print and soon for Kindle. Breath prayers are powerful, short prayers said in one breath that helps us stay in connection with God throughout our daily life. Please check it out and tell others about it.  I appreciate you spreading the word.
"There is no mode of life in the world more pleasing and more full of delight than continual conversation with God."

Brother Lawrence
A second resource is a pdf I just wrote called "Prayer – 11 Ideas for Keeping Prayer Fresh" and is available free. Just click the button below, fill in your email and it will be sent to you. My gift to you.
I would love you to check out these resources, tell others about them, and leave a book review when you can. May they bless your journey with God in your life of prayer.
Click Here to Get the Resource
What resources, practices, or people has shaped your prayer life?