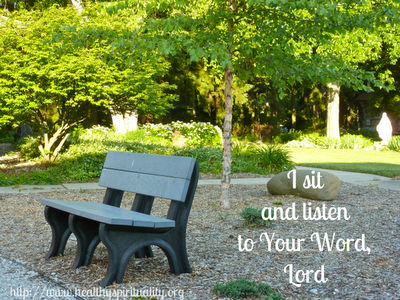 Prayer opened the door of my heart during my recent retreat. I was surrounded and supportive with prayers from others from their own life journeys and prayers that bubbled up within me as I spent time with God.
Our retreat leader was Sister Nancy Brousseau, my mentor and spiritual guide through my formation as a spiritual director.
Nancy always invites us to go deeper, to let go and plunge into God. Knowing that should have prepared me for two weeks of not just learning with my head, but coming home with a new heart.
I wanted to write a post today detailing the retreat about what I experienced and still am encountering with God. But I am lost to find the words to describe the intimacy and sacredness of these ongoing blessings.
Instead I will share with you some of prayers from others that led me deeper and a few that grew from within my heart. Many times during this time away I said these prayers repeatedly, in their entirety or at times only one line. They rose as breath prayers as I walked, ate, listened.
Perhaps they will bless your journey also:
Let nothing disturb you.
Let nothing frighten you.
All is fleeting:
God alone is unchanging.
Patience achieves everything.
Whoever has God lacks nothing.
God along suffices.
Nothing but You, Lord
Jesus may all that is you flow into me.
May your body and blood be my food and drink.
May your passion and death be my strength and life.
Jesus with your by my side, enough has been given.
May the shelter I seek be the shadow of your cross.
Let me not run from the love which you offer,
But hold me safe from the forces of evil.
On each of my dyings, shed your light and your love.
Keep calling to me until that day comes,
When, with your saints, I may praise you forever.
I want and I choose what better leads to God's deepening his life in me.
I am yours and for you.
Make me invisible, Lord
Soften my willfulness.
Based on John of the Cross
Speak Lord, I am listening
From my heart:
Lord help me sift and sort my cluttered mind and heart to hear Your voice.
I pray to be open and willing to hear what You want me to know and learn in order to become who You want me to be.
I sit and listen to Your Word, Lord.
Untether my heart so it can rise with You, Lord. I want to be free.
All of me for all of You.
What is your favorite breath prayer?