How do you pray?  Often my prayers slip into comfortable routines, predictable patterns, yet prayer is all around us – like our breath.  So many different ways to talk with God are waiting to explore. The following is a part of a three-week series on prayer and its many forms.  Come explore with me ways to address God when words are inadequate and let's get to know God better by spending time with Him.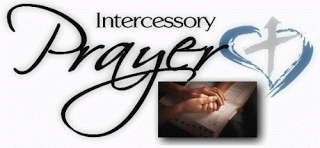 Praying for others is both an honor and responsibility many Christian take seriously. Dietrich Bonhoeffer
wrote about this type of prayer, "Intercessory prayer is the purifying bath into which the individual and the fellowship must enter every day."
Intercession on behalf of a fellow human being is a way of loving the other.
"Prayers of intercession specifically ask God to intercede in the world. We ask in the midst of tragedies involving thousands of people or in times of struggle and disease in the life of an individual, family or community. We are asking for God's help. Sometimes we are specific in our prayers as we ask for jobs, or healing, or an end to pain. Other times we may simply ask for God to be present in the midst of the situation, letting the divine love and comfort be experienced by those who struggle. And often we cry out that we do not know how to pray for we do not have the wisdom to know what is needed." 
Jane Vennard

Some intercessory prayers are general: "Lord I pray for those forgotten or those suffering in such and such country." Or they can be specific:  "Lord draw Tom closer to you and give him strength to get through this difficult time."
Often I simply say, "Lord you know best what she needs today.  Help her know your love."
Jane Vennard

teaches about another form of intercessory prayer is called "
arrow prayers."
It is like holding a bow, pulling the string back, and letting the arrow fly. This form is spontaneous — the times that prayers for others are pulled right out of me, such as hearing an ambulance siren, or passing a homeless person, or reading of a tragedy in the newspaper.
Sunday's newspaper contains photos of 8-10 people wanted for various crimes. I pause and lift each of them up by name. I often wondered if I am the only one to pray for them.
"
The purest form of love is given with no expectation of return. Measured by this standard, earnest prayer for others is a magnificent act of love."
David Hubbard

How do you pray for others?