How do you pray?  Often my prayers slip into comfortable routines, predictable patterns, yet prayer is all around us – like our breath.  So many different ways to talk with God are waiting to explore. The following is a part of a three-week series on prayer and its many forms.  Come explore with me ways to address God when words are inadequate and let's get to know God better by spending time with Him.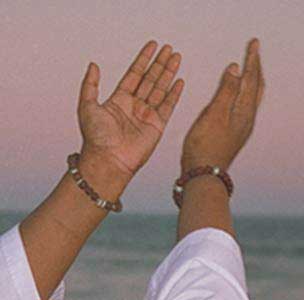 Reading
Catherine Marshall
when I was younger was the first time I read about
the Prayer of Relinquishment

.
The dictionary tells me that when I relinquish something, like a possession or a right, I give it up. I surrender it.
Catherine Marshall

wrote,
"…God was trying to teach me something important about prayer. Gradually I saw that a demanding spirit, with self-will as its rudder, blocks prayer….God absolutely refuses to violate our free will; that therefore, unless self-will is voluntarily given up, even God cannot move to answer prayer
."
Image of this prayer is the garden of Gethsemane with Jesus, surrendering His all with the words, "Not my will but yours be done." Or remember the old Nestea commercial with the man falling into the refreshing swimming pool? – when we relinquish we fall into the arms of God, trusting Him completely.
Letting go and yielding our will to God is a continual process and one we don't do without difficulty. We like to stay in control (or fool ourselves in thinking we have control) and fear if we give up everything to God – what will He ask us to do?
Into God's hands we surrender our ego, our will, and our entire self. We release all that we cling to and wait in hope and trust.
Always hope!
Father, I abandon myself into your hands; do with me what you will.

Whatever you may do, I thank you:
I am ready for all, I accept all. 

Let only your will be done in me, and in all your creatures.
I wish no more than this, O Lord. 

Into your hands I commend my soul;

I offer it to you with all the love of my heart, for I love you, Lord, and so need to give myself, to surrender myself into your hands, without reserve, and with boundless confidence, for you are my Father. 

Charles de Foucald