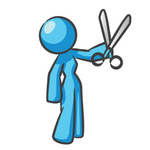 Our moms told us, "Don't run with scissors." Teachers warned us, "Be careful playing with scissors." 
But have you ever thought of praying with scissors?
I held a pair of scissors in my hands while I prayed the other day.
Lord, You invited me to tenderly think and pray with scissors. What are your lessons?
I smile as I drift back to kindergarten. Written on my report card are these words:
"
Jean Anne needs more work with scissors."
HA! I flunked 'scissors" in that grade. Funny, Lord, you grace me with a humorous memory to begin our prayer time with some joy. I guess I still "need more work with scissors."
My fingers slowly traced the blades. The sharp edges reminded me of my harsh and prickly retorts to my family. Ouch that hurt them.
Lord, what do you want me to cut out?
What strings do I cling to that block me giving my full heart to You.
Help me sever those ties with Your sacred snip.
Even up my jagged edges, Lord. Trim the useless fat that clogs my life.
Scissors can be wonderfully creative or tragically harmful – help me to know the difference.
Can I use scissors in my life in a productive way? There's a rhythm to using scissors, a coordination of the fine motor skills, the thumb and pointing finger, working together, yet separately. Eye-hand coordination is moving the hand and scissors forward in a straight line without cutting off anything really important.
Lord, guide my fingers and coordinate my eyes to cut intricate design in life that You choose for me.
Two blades working in sync – I want to live like that. You move, I follow. May my every step match Yours.
Productive and functional under the right circumstances.
Creative when held in the right hands.
Just like me.