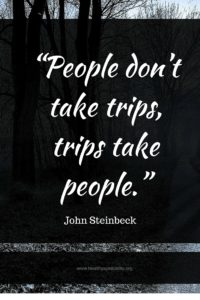 How do you prepare your heart for pilgrimage?
I leave in a few weeks for a bucket list pilgrimage to Ireland. One-third of the joys of travel is the anticipation of the time away, one-third the actual journey, and one-third reminiscing and beholding the memories after returning home.
I want to be fully present and prepared for this special pilgrimage.
What is Pilgrimage?
A pilgrimage is a journey packed with sacred meaning. More than just travel, pilgrimage is a trip that transforms.
I have written before about the spiritual practice of pilgrimage on this blog. If you don't know much about pilgrimage or want to read more check out these posts:
The Difference Between a Vacation and a Pilgrimage
I treasure how I grow spiritually on those journeys and thought of them once again a few weeks ago while reading the book, The Art of Pilgrimage by Phil Cousineau. Rich with great quotes, it was one of those books I underlined quite a bit.
"If we truly want to know the secret of soulful travel, we need to believe that there is something sacred waiting to be discovered in virtually every journey."
"A pilgrimage is a transformative journey to a sacred center…a pilgrimage is a spiritual exercise, an act of devotion…pilgrimage is a powerful metaphor for any journey with the purpose of finding something that matters deeply to the traveler."
"Pilgrimage is the kind of journeying that marks just this move from mindless to mindful, soulless to soulful travel. The difference may be subtle or dramatic; by definition it is life-changing."
"What matters most on your journey is how deeply you see, how attentively you hear, how richly the encounters are felt in your heart and soul."
"The difference between a pilgrim and tourist is the intention of attention, the quality of the curiosity."
To me a pilgrimage is to look at ourselves and what surrounds us with new eyes, to be changed whether we travel around the world or into our own backyards.
To live each moment seeing miracles all around us.
To awaken and marvel at the ordinary and to gasp in awe pondering the extraordinary.
All pilgrimages add meaning and roots to our lives.
John Muir wrote: "I only went out for a walk, and finally concluded to stay out till sundown, for going out, I found was really going in."
Preparing My Heart for Pilgrimage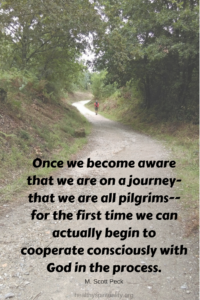 Like packing for any trip, I take the time before a pilgrimage to prepare my heart.
Prayer – I offer this time away for God to shape me, teach me, guide me. I pray that I will be free of expectations that narrow and even obstruct my view and miss the surprises God will certainly gift for this time.
Purpose – I prayer and through my journal, I ask for God his purpose for this trip.
Patience in what unfolds – Travel can be challenging with airport chaos, lugging luggage, customs, time schedules, other peoples' needs and hassles, unpredictable weather. Lord, grant me patience in all that unfolds on this adventure.
Pack Lightly – Yes literally. I over pack and take too much. This is my challenge this time to pack reasonably. But pack lightly also comes with what I pack into my heart and mind. I want to be open to receive all the God will bring on this pilgrimage for me.
Pay Attention – to all the sights, breath in the details, be present to those I am with and new people I encounter along the way. Listen for God's whisper in the breeze of Ireland.
I need your help. What am I missing in preparing my heart for pilgrimage?