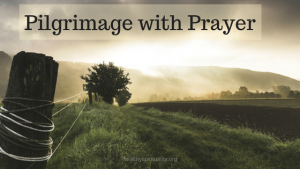 What do you think when you hear the words – Pilgrimage with Prayer?
Pilgrimage with prayer is the theme for this summer here on Healthy Spirituality. We are all on a journey in life – and I am literally taking several trips this summer and hope to take you as a reader on the path through various prayer practices in this season.
"If we truly want to know the secret of soulful travel, we need to believe that there is something sacred waiting to be discovered in virtually every journey."
Phil Cousineau
What is a Pilgrimage?
A pilgrimage is an outward journey that transforms our inner journey.
To me a pilgrimage is to look at ourselves and what surrounds us with new eyes, to be changed whether we travel around the world or into our own backyards.
Some pilgrimages are to well-known sacred places. Others could be more personal – a trip to Ground Zero or to a parent's grave. A writer may visit a famous author's home and see where they wrote their words.
To live each moment seeing miracles all around us.
To awaken and marvel at the ordinary and to gasp in awe pondering the extraordinary.
All pilgrimages add meaning and roots to our lives.
John Muir wrote: "I only went out for a walk, and finally concluded to stay out till sundown, for going out, I found was really going in."
Pilgrimage is a great description of what the next several months will be like in my life both here on the blog and in my travels. I will be going with one of my daughters to see plays in Stratford Canada. Home for a few weeks then venture into a new world of an 8-day Ignatian retreat. Then with only a quick break to wash and repack, we head to Europe for an 11-day Baltic Sea Cruise. Busy, but blessed.
All these trips can and will be pilgrimages. I've written in the past about the practice of taking a pilgrimage:
The Difference between a Vacation and a Pilgrimage
The Spiritual Practice of Pilgrimage
Prayer is essential as I prepare, pack, and proceed with these adventures. I even took my own advice, rereading a book I wrote Spiritual Retreats: A Guide to Slowing Down with God.  This is helping me prepare my heart for all these adventures with God.
Pilgrimage with Prayer
How about coming on a pilgrimage with prayer with me this summer? If you have been a regular reader of Healthy Spirituality, you know this is the Year of Prayer here and each month various aspect of this spiritual practice has been explored. You also know I am now only posting once a week – gives me more time and lessens the burden of another thing in your inbox.
Each week now through early August I am going to feature a different prayer pattern/practice. Topics will include: what to pray for, using your imagination with prayer, unceasing prayer, prayer of examen, adoration, covenant prayers, intercessory praying and more.
It is MY prayer that diving deep into these types of prayers fills your prayer tool box. Remember the prayer tool box that I wrote about here?
Speaking of the prayer tool box – In that series I wrote about analog and digital prayer tools and several people encouraged me to compile both of those lists into one pdf. You can get a copy of this resource FREE by clicking the button below. (By the way if you are NOT a subscriber and click that button you only get that pdf – I respect your privacy and do NOT put you on the list to get this blog in your inbox. You only get that by subscribing separately. Yep, no spam!
I hope you join me on this pilgrimage with prayer this summer. Adventure awaits!
"The only question in life is whether or not you are going to answer a hearty 'YES!' to your adventure.'' 
Joseph Campbell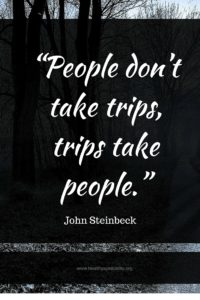 "A man practices the art of adventure when he breaks the chain of routine and renews his life through reading new books, traveling to new places, making new friends, taking up new hobbies and adopting new viewpoints.''
Wilfred Peterson
"Actually, the best gift you could have given her was a lifetime of adventures." 
Lewis Carroll
What pilgrimages do you have planned? How will you incorporate prayer into your journey?