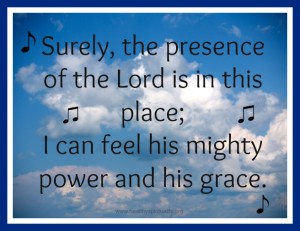 The song "Surely the presence of the Lord is in this place" walked with me this past weekend as I practice one of my favorite spiritual practices – going on a silent retreat. Its words and music continue to surround me even today.
The spiritual practice of intentionally taking a retreat – a time away from ordinary noisy days and spending time with God – takes me deeper in my love and experience of God than almost any other practice.
I entered this time away with no expectations. In the past I brought questions to lay before God, issues I needed guidance or healing or even just a hunger to be with Him.
This time was different. Several months ago my spiritual director asked me why I strived so much and had I ever considered just allowing things like creativity or guidance to "bubble" up. "Bubble up" became my mantra for this retreat.
Now this was difficult for this plan everything and keep in control of every detail girl. Remember one of my favorite poems about God and the Tandem Bike Ride? (see that post here)
This retreat felt like one non-stop bike ride with God leading me on wild escapades into territory I would have never entered by myself. God smiled at me and said, "Hop on and let's go. Let the adventure begin." And it did.
Now I can't possibly share all that I learned this retreat in silence, just being with God, but he did give me five gifts. And in his creativity they all started with the letter "E."
Enfold

– This is my word of the year and I lifted it up to the Lord for any blessing and insight. Many times in my walk with him I have felt his arms enfolded around me but longed to know more deeply his Indwelling within me also.

Embrace

– I read and reread the story about Jesus and the Samaritan woman. I wanted so much to taste that living water he mentioned, but was drawn more to the verse about her having five husbands. I have learned to pay attention when my spirit is jarred by a verse.
I felt the Lord ask me gently, "What are the five battles you are waging by yourself?"
I knew the first two right away – my weight and my writing. I struggle with both on my own without leaning on His strength. Number three was learning that I am enough, good enough and can love myself. The fourth one slowly surfaced as my need to control, be busy, doing and accomplishing something instead of being present and just plain being. The last one lay under the murky waters for a while, hidden. When I realized it, I was surprised to recognize my battle with discontent and always comparing myself to others – people thinner, better writers, ones with "real" missions.
These five were hard to admit, to ask for help with, but God led me to "embrace" my shadows as part of myself – loving all of me just as I am – flaws, warts and all. This part of the weekend held other lessons as I released these battles and relinquished control, but those lessons I will share another time.
Emerge

– As I walked the beautiful grounds of the retreat center, each day the snow slowly melted and the ground reveal its hidden treasures. I heard " Let all within you slowly emerge. Like the snow slowly melts or the gradual rise of the sun, let wisdom emerge in its own time. Listen and wait and learn." Well duh, allow them to bubble up! My having to wrap all my lessons up in a neat bow over one weekend wasn't going to happen. God plans to use these lessons as fuel to kindle my spiritual journey ahead in the future.

Enough

– I struggle with being enough, good enough. I know many of you also face that issue. I remembered one of my favorite prayers from Julian of Norwich – "Thou are enough for me." I lifted those words up over and over again, knowing the more I love God, the more I will learn to love others and myself. As these words melted into my heart, they dissolved into one word – "Enough." "Enough." "Enough." I am enough. And enough is quite a feast!
 

Ember –

The emptiness I carried into the retreat – the place inside my soul where I so wanted to find the Divine Indwelling transformed over these three days into a sanctuary. I asked the Lord for an image, a symbol to hold in this inner space to remind me always of his presence. I thought about candles or an altar but then heard "ember." An ember holds the heat for a long period of time – with the right care even for an eternity. Its glow is made brighter in the darkness. And its flame kindled brightly by the breath of the spirit. My soul lit by God's love within. An intimate indwelling for the God who enfolds me from outside and from within.
Yes I can say I have been with the Lord. A weekend full of surprises and blessings often missed except for seeking times of solitude, silence and being with the Holy -moments where we can cease struggling with our battles and find rest and reassurance.
Silent retreats – a spiritual practice that creates space for deep union with God. To hear his sweet words. To feel his healing touch. To know him better. To sing his praises and appreciate the incomprehensible reality of "surely the presence of the Lord is in this place."
Have you ever gone on a silent retreat?