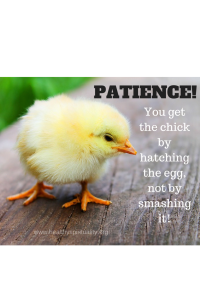 When God handed out gifts, he skipped filling me with even a tiny bit of patience when constructing my DNA. I want patience and I want it now. Quick! I desperately need patience.
I have been talking all year with God about how I can learn to be more patient. I realized how quick my impatient trigger lets loose when I gasped seeing the following painting by Melanie Weidner at the Spiritual Directors International conference last April. She does beautiful work. Check out her web site.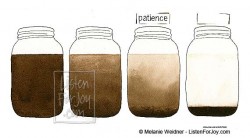 I looked at this art piece several times and it kept calling me back to learn its lesson. Finally on the third day I bought it for my office. It is based on the saying:
"Do you have the patience to wait
Till your mud settles and the water is clear?
Can you remain unmoving
Till the right action arises by itself?"
Lao Tzu
Being patience involves time to let unclearness, anxiety and noise that suppresses the answer to settle so the right path will emerge.
Ok, Lord I hear you. Be open and willing to learn more about being patience. BUT (she whines in her most desperate and despondent voice)
I want to be a multibook author – now!
I want to be at my goal weight – now!
I want health…happiness…peace… or whatever is bubbling inside me currently – now!
Now as in human time, Lord.
Now.
I don't think I am alone with not having enough patience. I sometimes spend more time wishing than working on my goals. So I have been thinking about patience a lot lately.
Have patience with all things. But first of all with yourself.
St Francis de Sales
Ok, ok, I hear you, Lord. Learning patient takes time as I absorb this trait into my cells of my heart and being.
Patience is a skill that can be acquired and one that we all can apply better in our lives. I guess I have to believe I can be patience too in order to at least practice this skill and to be gentle with myself when I slip up. To learn to be patient takes patience. My prayer now is to open my eyes to its teachings.
Learn the art of patience. Apply discipline to your thoughts when they become anxious over the outcome of a goal. Impatience breeds anxiety, fear, discouragement and failure. Patience creates confidence, decisiveness, and a rational outlook, which eventually leads to success.
Brian Adams
Interesting quote. Yes, being patient breeds many more positive emotions than impatience. Recognizing the negative feelings when they arise will identify my leaning more towards impatience and empower me to choose differently.
The reality is – things do take time. Knowing that and adding some laughter, deep breathing, and lots of love make the days go smoother.
Elizabeth Josefsberg wrote in her book, Find Your Fingerprint:
"I realized that maybe I didn't know what the word patience actually meant. If pressed, I would have defined patience as 'waiting calmly.' At least that's how I thought about it when I told my kids things like 'be patient, we will be there soon.' I asked by husband to pull out his smartphone so we could look up the actual meaning.
I was practically speechless with what we found: one of the many definitions was 'to endure discomfort without negativity.' Wow. Patience isn't about waiting calmly. It's about enduring."
Many of the things we face in life bring discomfort – waiting an hour later for lunch with a growling tummy (I won't starve, you know), heavy traffic, visits from people who strain our nerves, changes in our workplaces, temptations when eating out. All produce a sense of uneasiness – not life threatening. Events that CAN be endured, gotten through with time. Duh, patience.
I used to think if I felt discomfort something dramatically was wrong. Now I am realizing discomfort often arise with change, new events, and unfamiliar circumstances – all tolerable and may contain pearls of wisdom waiting to be discovered. That gives me hope in many of the interactions in life and nurtures that blossoming bud of patience.
So I am pondering patience this year. I would love to hear your views/comments and/or insights into this trait. I will wait patiently for your answers.