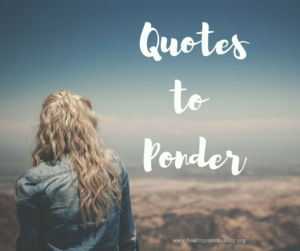 I love reading quotes to ponder.  If you have been reading Healthy Spirituality for very long, you know I love quotes – concise bits of wisdom  – to breath into our souls and meditate in our mind.
I have been writing some long posts lately and think a shorter one is in order.  How about some quotes to ponder today?   The following words have been lingering in my heart lately and stirring up conversation between my deeper self and with God:
Without faith there would be little meaning in my life. I should be 'a mere pillar of darkness in the dark.' Observers in the full enjoyment of their bodily senses pity me, but it is because they do not see the golden chamber in my life where I dwell delighted; for, dark as my path may seem to them, I carry a magic light in my heart. Faith, the spiritual strong searchlight, illumines the way, and although sinister doubts lurk in the shadow, I walk unafraid towards the Enchanted Wood where the foliage is always green, where joy abides, where nightingales nest and sing, and where life and death are one in the Presence of the Lord.
Helen Keller
I serve. I do the dance I must. I plant trees, but I am not the doer of this work. I am the facilitator, the instrument—I am one part of the symphony. I know there is an overall scheme to this symphony that I cannot understand. In some way, we are each playing our own part. It is not for me to judge or criticize the life or work of another. All I know is that this is my dance. I would plant trees today even if I knew for certain that the world would end tomorrow.
Balmir Matbur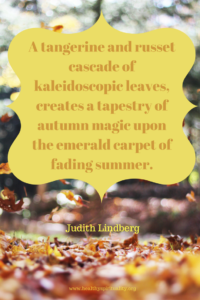 May you grow still enough to hear the small noises earth makes in preparing for the long sleep of winter, so that you yourself may grow calm and grounded deep within. May you grow still enough to hear the trickling of water seeping into the ground, so that your soul may be softened and healed, and guided in its flow. May you grow still enough to hear the splintering of starlight in the winter sky and the roar at earth's fiery core. May you grow still enough to hear the stir of a single snowflake in the air, so that your inner silence may turn into hushed expectation.
 Brother David Steindl-Rast

I prefer winter and fall, when you feel the bone structure of the landscape – the loneliness of it, the dead feeling of winter. Something waits beneath it, the whole story doesn't show.
Andrew Wyeth
What words of wisdom have been stirring in your mind lately?  Which quote resonates most with you?  Have a good quote to add to this list?