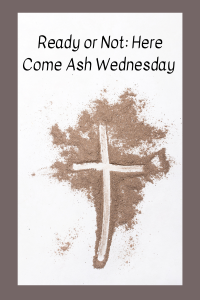 Ready for Ash Wednesday and Lent?
Today is Shrove Tuesday which I featured on the blog last year and tomorrow is Ash Wednesday. This solemn service includes confession and reconciliation and the use of ashes to form a cross on each forehead.
"From dust you came and from dust you will return." Genesis 3: 19
The symbolism of ashes stirs my heart each year and feels like the threshold on our walk to Gethsemane and the Resurrection. I stand in the doorway between the seasons and pause to ponder God's faithfulness and forgiveness and to pray and praise his grace and love.
The sign of the cross on our forehead with ashes recalls our baptism, and reminds us that in both life and life beyond life we belong to God; we are "marked as Christ's own forever."
In our parish and many others, the ashes are made by burning palm branches from the previous Palm Sunday.
Throughout the Bible ashes represent repentance and asking God for mercy and forgiveness. For example, Jonah preached in the city of Nineveh, "he rose from his throne, laid aside his robe, covered himself with sackcloth, and sat in ashes" (Jonah 3:6). The prophet Daniel dressed in sackcloth and ashes as a sign of his people's regret for the ways they had turned away from God (Daniel 9:3)
"A few wise words echoing through Ash Wednesday urge me to deeper things:
renewed dedication,
constant compassion
and mindful awareness.
I leave marveling at how simple and sublime is this envelope of the soul, which one day return to dust, dust, only dust."
Joyce Rupp
This time of the church year we are invited into deeper reflection and listening to our God. Many read a special devotional (the Lenten devotional I wrote is featured in the sidebar), pray more often, increase their giving and may fast from something to remind them of God's blessings and love.
Christine Sine writes a special prayer each year – what a delightful practice. Here is the link to some of her creativity.
She also compiled a great list of resources for Lent.
Lent is a 40-day season (not counting Sundays) marked by repentance, fasting, reflection, and ultimately celebration. The 40-day period represents Christ's time of temptation in the wilderness, where he fasted and where Satan tempted him. Lent asks believers to set aside a time each year for similar fasting, marking an intentional season of focus on Christ's life, ministry, sacrifice, and resurrection.
I want the ashes to go deeper this year. Mark the sign of the cross inward on my heart, not just outward on my forehead.
The ashes remind me to reflect on who I am and Whose I am.
The ashes help me remember to let go things that clutter and block my relationship with God.
The ashes prompt me to turn over my frailty and imperfections to God and praise Him for sending us a Savior.
The ashes invite me to return and draw closer to the One who loves each of us and wants a deeper relationship with us.
May my ego crumble like ashes as God embraces my human heart with His love
How do the ashes invite you closer to God?