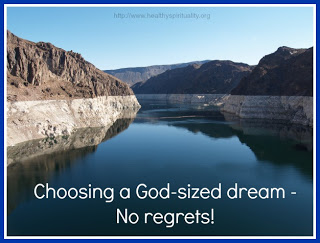 Regrets?  Do you have regrets?
A friend of mine a few years back worked in admissions in a nursing home. One day he admitted a frail, elderly lady in a wheelchair. The lady looked him right in the eye and said to him,
"Don't wake up one day and be like me. Too old now to do what I really wanted to do. Time moves so quickly. Do what you deeply want now."
Her words struck him and he knew right away what to do. Strange as it may sound he wanted to change his first name legally. After that momentous conversation with this lady, he made the appointment with his lawyer to begin the process. He did change his name and never regretted taking this action.
What were those regrets?
1.  I wish I'd had the courage to live a life true to myself, not the life others expected of me.
This was the number one regret of all. At the end of life, people reflect about dreams they wished they had tried to fulfill.
My lesson: Honor and listen to my dreams.
2. I wish I didn't work so hard.
Like the saying goes, no one on their deathbed wishes they spent more time at the office.
My lesson: Turn off this darn computer and get off my smart phone and really be present and BE with those I love more often.
3. I wish I'd had the courage to express my feelings.
Healthy relationships rely on honest, open and loving sharing of true emotions.
My lesson: Ponder how honest I am in my relationships. My first impulse is to say I am but this is a wonderful opportunity to listen and observe myself. Maybe I will discover something new. I do know as I grow older, I am more honest.  Will probably turn into a cantankerous old woman someday! HA!
4. I wish I had stayed in touch with my friends.
I have written on this blog how strongly I feel about the importance of lifelong friendships. Also I am learning how to let go of being bothered by interruptions, treating them as nuisances, and embrace them as intermissions and opportunities.
My lesson:Another chance to ponder. Is there someone I want to reconnect with from my past?
5. I wish that I had let myself be happier.
The article mentioned this was also a very common regret. So often we let life drag us down instead of choosing to be happier. Our natural tendency may be to fret, get discouraged, or want to give up, but with God we can recognize our default mode and make the decision to live in His freedom, joy and love.
"Therefore I tell you, do not worry about your life, what you will eat or drink; or about your body, what you will wear. Is not life more than food, and the body more than clothes? Look at the birds of the air; they do not sow or reap or store away in barns, and yet your heavenly Father feeds them. Are you not much more valuable than they? Can any one of you by worrying add a single hour to your life?
My lesson: Choose Christ. Choose to dance in His joy.
This is the time to think about regrets, not later in life when you can't do much about them.
I wrote a few months ago
a post about regrets
, but these five wishes made me pause and think again about life.
What lessons have you learned from regrets?