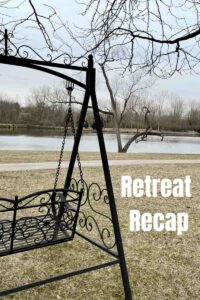 Going on retreat is an essential spiritual discipline for me. Time for silence and learning informs the mind and forms the spirit. I leave refreshed, renewed, transformed – not quite the same as I arrived. If you are interested in learning more about retreats, I usually write a blog post about them several times a year. Just go to this sidebar on the right, enter "retreat" in the search button and you will find many, hopefully inspiring, posts here about this spiritual practice.
I just returned from a four-day silent retreat and often get questions about what I experienced, learned, and heard. I spend the last day of retreat summarizing, harvesting my journal, emotions and lessons, then reread them once at home – a continual fountain of blessing.
Retreat Recap
Most retreats have a general theme – not too restrictive, but an open invitation to frame the experience. This year, before we entered into silence, the retreat leader opened with music, prayer, scripture, and a reflection around the theme of our journeys with God. She encouraged us to MEANDER – slow down and savor our time. Watch and listen. Wow! That word leapt into my soul – what a delightful welcoming word – to meander with God. That become the focus of my entire retreat and took roots deep within me that continue to shape me even once home.
Practices – I know it shouldn't surprise me but again I was reminded about how the practices of silence, journaling, praying, and spiritual direction nourish and guide my spirit. I can't evoke the flame but through practices I can tend the fire.
New image – I saw a cross that not only showed Jesus but God behind Jesus, embracing him. The dove, the Holy Spirit was present too. I had never seen the Trinity on the cross before.
Borrowed words – When I can't quite find the words, I borrow from others. During Lent this year I have been memorizing and praying St. Ignatius' prayer called the Suscipe (and while on retreat I learned how to pronounce that word too! sus chee pay). This is Latin for "to receive." This powerful prayer of surrender continues to guide me today:
Take, Lord, and receive all my liberty,
my memory, my understanding,
and my entire will,
All I have and call my own.
You have given all to me.
To you, Lord, I return it.
Everything is yours; do with it what you will.
Give me only your love and your grace,
that is enough for me.
New song: My spiritual director shared with me the music of Dan Schutte who wrote this song based on the Suscipe. I want this song played at my funeral. If you are reading this post on the email, you may need to go to the actual blog post to see the video
.
I brought along my word, really my phrase, of the year – "Honor the Thirst Deep Within" – fully expecting to learn more maybe about 'honor" or "thirst." God always surprises me and a good reason to hold our human agendas and expectations lightly. "Deep within" became the focus on this retreat – being with God in the very depths of my inner self. It is hard for me to even find the words to fully describe these moments. Tender. Intimate. Accepted. Loved.
Thankful – So grateful for God's touch, affirmation, guidance, grace and love. That is enough for me.
I hope you enjoyed this retreat recap. I encourage all of you to reflect and take the time to review an experience and a meandering with God. Write out the words to describe your emotions, images, prayers, and encounters with the divine. Savor the sacred. Be open to God's invitation to come away and be with them, no matter if it is four minutes or four days.
God is present. Where have you experienced God lately?