My pilgrimage to Scotland and England held many sacred moments and images I will never forget. I am a visual person so symbols and memories often become the ways God stirs my heart and awakens my soul.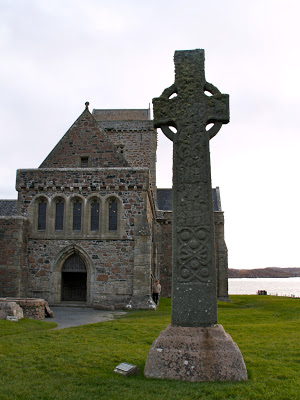 Even though we have been home for weeks now, I continue to glean lessons from this journey.
I love walking the hallowed ruins,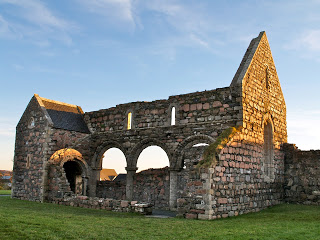 and drinking in the autumn colors in the Highlands. 

I experienced God in many of these places.
So I was surprised at God's sudden presence as I gazed at the scenery while riding in the back of the bus on a dreary drizzling day. Sister Nancy spoke over the microphone about lives of the English Mystics we would visit later the day. Most people's heads lowered, rocked to sleep by the gentle movement of the bus.
Nancy closed her talk with a poem about crossroads,Trasna.  The words drew me into God's arms and I listened to His wisdom.
The word, trasna, means to cross, to choose which direction to go, to proceed. Not only the physical act of a crossroads but also the spiritual transition from our old way of living to a new way, from self-centeredness to God-centered, from ordinary to extraordinary.

Trasna. Crossing. Turning point. A moment of decision: which path will I now take? How will my life be changed by this pilgrimage?
For St Columba, trasna took him across the sea from his Irish homeland to a wild, unsettled island of Iona. Here he lived out his days spreading the Gospel on the Scottish mainland, teaching and nurturing others in their faith journey.
The poem spoke to my heart, made me consider my trasna. Maybe it will stir something up within you. 
As we approach the journey of Advent, anticipating Christmas, may we once again be pilgrims on the path to Bethlehem, seeking the Christ Child.
The pilgrims paused on the ancient stones
Behind them stretched the roadway they had travelled .
Ahead, mist hid the track.
Unspoken the question hovered:
Why go on? Is life not short enough?
Why seek to pierce its mystery?
Why venture further on strange paths, risking all'
Surely that is a gamble for fools – or lovers.
Why not return quietly to the known road?
A voice they knew called to them, saying:
This is Trasna, the crossing place.
Choose! Go back if you must,
You will find your way easily by yesterday's fires,
there may be life in the embers yet.
If that is not your deep desire,
Stand still. Lay down your load.
Take your life firmly in your two hands,
(Gently… you are trusted with something precious)
While you search your heart's yearnings:
What am I seeking? What is my quest?
When your star rises deep within,
Trust yourself to its leading.
You will have the light for first steps.
This is Trasna, the crossing place.
This is Trasna, the crossing place
What are you seeking? What is your quest?