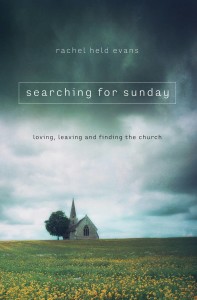 Every once in awhile a book comes along that nourishes both the mind and the heart. Searching for Sunday – Loving, Leaving and Finding the Church – by Rachel Held Evans is one of those books.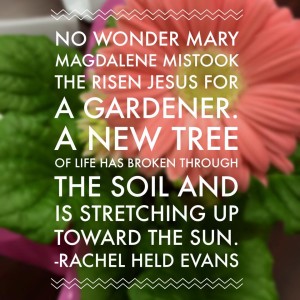 What I liked:
I love reading material that makes me think. Words that haunt my thoughts throughout the day and help me clarify their meaning. Yet I don't want to live just in my head – I also need fuel for my spirit and my heart – to grow in my passion and love of God. This book fits both needs.
Searching for Sunday is a book about Rachel's brave and vulnerable quest and exploration on what church means. She is honest with her doubts and difficulties and invites us to walk along with her. I love how she shares her stories.
We have a God who loves to be with us – even in our struggling times and wants to hear from us. Shouldn't the church be the same way? This book may challenge you, stretch you, but at the same time inspire you to articulate and clarify what church means to you. Be open and willing to explore and God just may surprise you.

Favorite Quote (so far)
"Death and resurrection. It's the impossibility around which every other impossibility of the Christian faith orbits. Baptism declares that God is in the business of bringing dead things back to life, so if you want in on God's business, you better prepare to follow God to all the rock-bottom, scorched-earth, dead-on-arrival corners of this world – including those in your own heart – because that 's where God work, that's where God gardens."
Here are a few more nuggets (I just couldn't pick one)
"Try as I may, I can't be a Christian on my own. I need community. I need church."
"I need the Eucharist because I need to begin each week with open hands…"
"No step taken in faith is wasted, not by a God who makes all things new."
"The church doesn't offer a cure or quick fix. The church offers death & resurrection. It offers grace."

Buy it or Borrow it?
I recommend you buy this book. Highlight it. Devour it slowly. I plan to bring it to my next small group and beg them to select it as our next group reading. I haven't finished all of it yet but am anxious to discuss it with others so I find more layers to unwrap.
I did receive this book free as part of her launch team but was in no way obligated to give a good review.
I do recommend this book. It will get you thinking and believing.
What good book have you read lately?