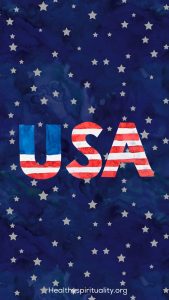 The Fourth of July has arrived. Where is the summer going so quickly?
In the U.S., we celebrate freedom as today was the day the country's founders signed the Declaration of Independence. In essence, our country's birthday. Or was this the actual day? I'll answer that question later.
Reflecting on both our personal, our family's, and our country's history helps us understand ourselves better and how we fit into God's grand plan. Whenever I study a person of faith's story or read about a past faith movement, I take the time to also explore their world view. What else was happening around them that shaped their thoughts and beliefs?
What is happening right now in our world that influences us too? Does terrorism make us more cautious? More fearful? Does the political atmosphere drive us into action or press us into the shadows of doubt? How does the current culture affect our faith and the practices we use to express our relationship with God?
How would you describe your current world view? If someone would read your story 100 years from now, what in history would stand out to them as an event that influenced our choices? Something to ponder, isn't it?
As we pause today and celebrate the Fourth of July, I journaled some of these thoughts. But this is also a day to celebrate, rejoice and relax.
How about some fun facts about the Fourth of July?
 Seven Fun Facts about the Fourth of July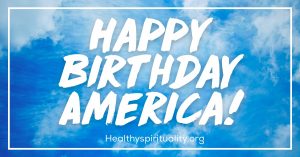 "My God! How little do my countrymen know what precious blessings they are in possession of, and which no other people on earth enjoy!"
 Thomas Jefferson
 Thomas Jefferson was the key writer of the Declaration of Independence. As good writers do, he drew upon two resources for inspiration: George Mason's draft of Virginia's Declaration of Right and his own previous writing of the preamble of the Virginian Constitution.
Writers like their space and Jefferson wrote the first draft on a portable writing desk that is still on display at Monticello, his home.
He worked with four others as part of a committee – yes governmental bureaucracy existed even at that time. Once his first draft was completed the Continental Congress made 86 changes including shortening the original length by more than a fourth. Writers always encounter editors before the final project is done.
Jefferson was quite unhappy about some of the edits. He had originally included language condemning the slave trade (even though Jefferson himself was a slave owner). This criticism of the slave trade was removed in spite of Jefferson's objections.
Only one person signed the Declaration on July 4, 1775, John Hancock. Congress adopted it on July 2, 1776. John Adams wrote his wife Abigail that July 2nd would go down in history with "parades and pomp and bells ringing and fireworks." OOPS! So much for the fourth of July.
Bristol, Rhode Island gets credit for the oldest continuous Fourth of July celebration in the United States with their parade that first was held in 1785. What a tradition!
Yes, there is something written on the back of the Declaration but it isn't some secret message or hint of treasure. It simply states, "Original Declaration of Independence dated 4th July 1776."
By July 9, 1776, a copy of the Declaration of Independence reached New York City. With hundreds of British naval ships occupying New York Harbor, tensions were quite high. George Washington, commander of the Continental forces in New York, read the document aloud in front of City Hall. The crowd cheered and later that day tore down a statue of King George III. The statue was subsequently melted down and shaped into more than 42,000 musket balls for the fledgling American army.
Interesting enough the United States gave independence to another county on July 4th. The Philippines gained their independence on this date in 1946.
One funny story that most historians claim as a myth is that supposedly King George III wrote in his dairy on July 4, 1776, "Nothing of importance happened today."  Would be ironic if it were true, but the King didn't keep a journal.  Sorry, just a made up story.
One of my favorite quotes:
You have to love a nation that celebrates its independence every July 4, not with a parade of guns, tanks, and soldiers who file by the White House in a show of strength and muscle, but with family picnics where kids throw Frisbees, the potato salad gets iffy, and the flies die from happiness. You may think you have overeaten, but it is patriotism.
Erma Bombeck
No matter where we live, let's pause and be grateful for the freedom we have and those from history preceding us, who wrote, imagined, and worked hard to create a better world.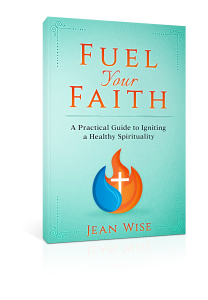 One more event to celebrate:  My latest book, Fuel your Faith, is now available on Amazon, both as an e-book and a print bool. Happy Dance!
What is happening right now in our world that influences your world view?
How do/did you celebrate freedom this summer?