Shakespeare, Stratford and Sage Sayings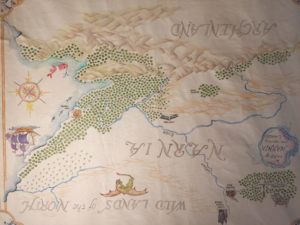 What do Shakespeare, Stratford and Sage Sayings have in common?  Creativity!
Last week I spent a delightful week with my oldest daughter, Valerie and we journeyed to Stratford Canada.  This charming town holds the Stratford Shakespeare Festival every summer featuring 13 plays.  We were lucky enough to attend 8 shows, ranging from the toe-tapping musicals – a Chorus Line and A Little Night Music to C.S. Lewis' the Lion, the Witch and the Wardrobe, to Macbeth, to the North American stage premier of Shakespeare in Love to the Virgil's Aeneid (a modern version) to Arthur Miller's All My Sons, ending with the hysterical Moliere's The Hypochondriac.
No, I can't pick a favorite since they were all so different and exciting in their own way.
I came home tired, but interestingly refreshed in the spirit of creativity. I love words and felt like I swam in an energizing pool of imagination and inventiveness.
So today I am going to share a few of the words that traveled home with me:
Shakespeare's New Words from Macbeth
No one knows for sure, but many scholars estimate that William Shakespeare added more than 1500 words to the English language.  Isn't that inspiring for the writers among us?  Here are a few original ones from Macbeth, according to the book Coined by Shakespeare, by Jeffry McQuain and Stanley Malless.
Assassination

Be-all and End-all

Drugged (used as a verb)

Impede

Stealthy
Sage Sayings
We will never sing alone, for in the woods of human forests everything echoes.
Virgil, The Aeneid
***********
"To be comfortable with the discomfort is not a bad place to be. It's reality."
Keira Loughran, the director of the Aeneid we heard at a talk
***********
Did you know they spray vodka on the costumes to control the body odor? Also chocolate syrup has the same consistency as human blood?
Learned this at the tour of the Wardrobe Warehouse
*************
"And so it looked as if all adventures were coming to an end, but that was not to be."
C.S. Lewis 
***************
"Let us go on and take the adventure that shall fall to us."
C. S. Lewis
************
I especially liked that last sage saying and gained some insight from its words this time: 
These words are spoken at the end of the play when the four children are in Narnia as Kings and Queens and find the other side of the wardrobe. Their new adventure is returning as children into the human world.
I believe that our souls live as beloved children of God. God gives us the gift of this human adventure. He opens his wardrobe and invites us onto the passage on earth to explore, learn and shape us.  Isn't that a positive mindset to view the ups and downs of life as an adventure and a return to heaven, Narnia, one day? 
The big question is whether you are going to be able to say a hearty yes to your adventure.
Joseph Campbell

When you see someone putting on his Big Boots, you can be pretty sure that an Adventure is going to happen.
Winnie the Pooh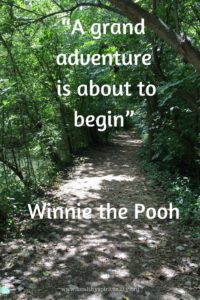 Make the most of this wonderful adventure.
Find delight in each new turn.
Take some risks.
Get to know our fellow companions.
Trust God to protect and guide us
Yes, let's go and take this adventure at hand!
What adventure you are taking lately?