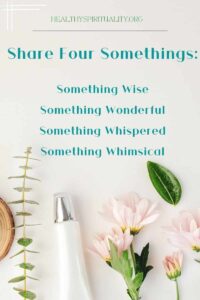 Share Four Somethings is a new regular blog post I began this year modeling after several of my blogger friends who publish bits of wisdom in four categories. 
I love this practice as it collects moments for reflection and growth. These "somethings" become markers in our spiritual journey. With so much pivoting and uncertainty in our lives right now, being grounded in a simple practice like this guides my way.
I listened to my heart and to God and narrowed down my four categories and to see what they will teach me this year.
Something Wise
Something Wonderful
Something Whispered
Something Whimsical
Each one reminds me to pay attention to these qualities in my life as gifts from God. I am learning that whimsical is the hardest one for me to capture and one that need the most coaxing to appear.
Something Wise
Ubuntu describes an African saying: "I am a person through other people. My humanity is tied to yours."
Archbishop Desmond Tutu explained it this way: "One of the sayings in our country is Ubuntu — the essence of being human. Ubuntu speaks particularly about the fact that you can't exist as a human being in isolation. It speaks about our interconnectedness … We think of ourselves far too frequently as just individuals, separated from one another, whereas you are connected and what you do affects the whole world. When you do well, it spreads out; it is for the whole of humanity."
Ubuntu. Community. Interconnectedness. When one suffers, we all do. When one rejoices, we all do. I may be only one, but one act of kindness reverberates beyond our imagination.
Something Wonderful
March's theme for me was reconnection and we spent time with lifelong friends and scheduled upcoming visits and dinners with others. Friends matters. What joy it is to be intentional in our relationships.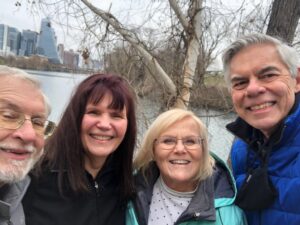 Something Whispered
I know I am not the only one with daily prayers for Ukraine and for peace. Here is a site with very specific prayer requests. Stand with Ukraine.
Here is the prayer I have used in our weekly Lenten services and in my morning prayers:
O God, as war between Russia and Ukraine rages, we pray:
For all in hiding, searching for safety…
For those forced to take up arms…
For all journeying to new lands, leaving behind homes and loved ones…
For children surrounded by confusion and chaos…
For those in Russia who bravely advocate for peace…
For journalists risking safety to report the truth about daily events…
For those consumed by the power to dominate and control, that they are filled with compassion for all people…
For the difficult work of diplomats, world leaders, and international organizations …
For all providing welcome, protection, and sustenance to those who have fled…
For medical workers as they attend to the injured…
For all grieving those who have died…
In your mercy, receive our prayer.
Something Whimsical
This poem by Mary Oliver made me laugh out loud and so me when I get full of 'poor me" syndrome. What a great image to remember and remind me that just showing up daily to the present task at hand is often my next right step.
"I go down to the shore in the morning
And depending on the hour the waves
Are rolling in or moving out,
And I say, oh, I am miserable,
What shall –
What should I do? And the seas says
In its lovely voice:
Excuse me, I have work to do."
Even as I type this poem days later, I smile.
What is something stirring in your spirit this past month?