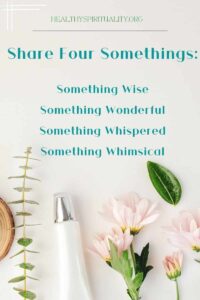 Share Four Somethings is a regular blog post several of my blogger friends publish sharing bits of wisdom in four categories.  Heather's 2022 categories are Something Loved, Something Gleaned, Something Braved, and Something Achieved.  Lisa near the end of each month shares something she loves, something she read, something she treasures, and something ahead.
I love this practice as it collects moments for reflection and growth. These "somethings" become markers in our spiritual journey. With so much pivoting and uncertainty in our lives right now, being grounded in a simple practice like this guides my way.
So I will occasionally share my four somethings on this blog. I listened to my heart and to God and narrowed down my four categories to start with and to see what they will teach me this year.
Something Wise
Something Wonderful
Something Whispered
Something Whimsical
Something Wise
This quote challenged me this month and I am still sitting with its wisdom. The question "How am I to let myself be loved by God?" haunts me. I have learned when my spirit quivers and becomes unsettled to pay attention to what God is inviting me into.
"For most of my life I have struggled to find God, to know God, to love God. I have tried hard to follow the guidelines of the spiritual life—pray always, work for others, read the Scriptures—and to avoid the many temptations to dissipate myself. I have failed many times but always tried again, even when I was close to despair.
"Now I wonder whether I have sufficiently realized that during all this time God has been trying to find me, to know me, and to love me. The question is not "How am I to find God?" but "How am I to let myself be found by him?" The question is not "How am I to know God?" but "How am I to let myself be known by God?" And, finally, the question is not "How am I to love God?" but "How am I to let myself be loved by God?" God is looking into the distance for me, trying to find me, and longing to bring me home."
Henri Nouwen
Something Wonderful
2022 is a year full of travel and joys. My hubby and I will celebrate 50 years of marriage in July and since we both love to explore places, lots of trips are planned. One vacation has already been canceled due to this frustrating pandemic, but I am hopeful many of the others will take place. The point is we will be together with friends and family even if the only trip we take is into the backyard for a cookout!
Something Whispered
God whispers to us all the time if we are still and listen. He reminded me of this truth this month. We ARE worthy because of God's love.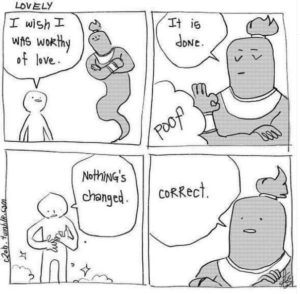 Something Whimsical
Such delight watching the sparrows and finches outside my office window savoring and going all in swinging on our bird feeder. Their enthusiasm and gusto to enjoy live living as they were created fills me with joy.
Lord, do you watch us with delight too?  "The Lord your God is with you, the Mighty Warrior who saves. He will take great delight in you; in his love he will no longer rebuke you but will rejoice over you with singing." Zephaniah 3:17.
Share Four Somethings is new for 2022 here on this blog. What is something stirring in your spirit this past month?