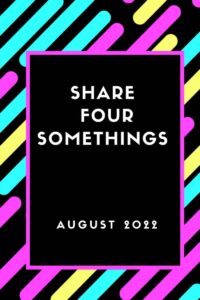 Share Four Somethings is a regular blog post where I feature bits of wisdom in four categories. 
I love this practice as it collects moments for reflection and growth. These "somethings" become markers in our spiritual journey. With so much pivoting and uncertainty in our lives right now, being grounded in a simple practice like this guides my way.
I listened to my heart and to God and narrowed down my four categories and to see what they will teach me this year.
Something Wise
Something Wonderful
Something Whispered
Something Whimsical
Each one reminds me to pay attention to these qualities in my life as gifts from God. I am learning that whimsical is the hardest one for me to capture and one that need the most coaxing to appear. This was true again this month.
Something Wise
Prayer is not asking for what you think you want but asking to be changed in ways you can't imagine.
Prayer can be moments of letting go and leaping into trusting God. I am slowly learning not to keep chatting away, yakking AT God instead of conversing WITH God. I have been thinking, praying, and studying about deepened trust in our Creator. I like control. I like my independence. I like to plan or organize and have things on schedule. Yet in reality it is not my show; it's God's and I am so blessed to be a part of his creation. I love how Kathleen Norris uses the word imagine in this quote. God knows and will change me/us beyond our imagination. Trust God.
Something Wonderful
In July Bill and I celebrated our 50th wedding anniversary. No, I don't feel that old but yep, that is the truth.
Actually we began to observe this milestone back in March 2021 commemorating our first date and decided to enjoy 2021-2022 with special trips and fellowship with family and friends. We have been so blessed to be able to travel and savor the moments of being with others and with each other.
The kids organized an evening BBQ in July and all the family was there and lots of photos were taken. They surprised us by inviting key friends across our lifespan and I was overwhelmed by love. The priceless memory of watching all the grandkids playing, laughing, and interacting together. Of watching my adult kids smile with each other and share their updates. Seeing friends from different points of life get to know each other in a common bond of friendship.
Moments never to forget. Ones to savor and hold onto forever.   I am so grateful, Lord. Thank you.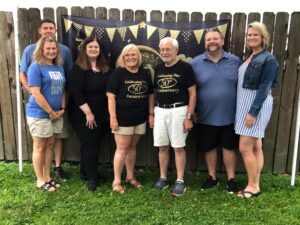 Something Whispered
"Life is a gift. Each one of us is unique, known by name, and loved by the One who fashioned us. Unfortunately, there is a very loud, consistent, and powerful message coming to us from our world that leads us to believe that we must prove our belovedness by how we look, by what we have, and by what we can accomplish. We become preoccupied with "making it" in this life, and we are very slow to grasp the liberating truth of our origins and our finality. We need to hear the message announced and the message emboldened over and over again. Only then do we find the courage to claim it and live from it."
Henri Nouwen
I am. You are. We all are beloved children of God.
Something Whimsical
Our church's youth group conducted a fundraiser this summer where you paid to have someone's yard "flocked" with flamingos. What a neat fun joy and surprise on the morning of our anniversary to be visited by these pink friends. By the way people had so much fun doing this to their family and friends that the youth group extended the project a few more weeks and brought in double the money they anticipated. All through joy-filled fun!

I sometimes forget
that I was created for Joy.
My mind is too busy.
My Heart is too heavy
for me to remember
that I have been
called to dance
the Sacred dance of life.
I was created to smile
To Love
To be lifted up
And to lift others up.
O Sacred One
Untangle my feet
from all that ensnares.
Free my soul.
That we might
Dance
and that our dancing
might be contagious.
~Hafiz
What is something dancing in your spirit this past month?