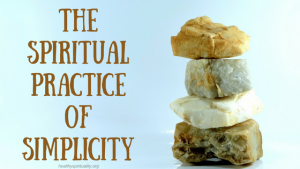 Many of us long to live more simply, but though it sounds easy, implementing this lifestyle is challenging. The spiritual practice of simplicity is this month's Tending the Holy topic. Each month on my Thursday posts, I pick one theme (or person of faith) to explore deeper.
The last two Thursdays, I introduced simplicity, looking at its definition and insights and then listed 10 quotes to ponder and deeper your ideas about this topic. This final week I'm sharing ideas for putting this discipline into practice.
Simple Foundation of Simplicity
The foundational idea for putting simplicity into action in our daily lives starts with God. It is about God, not us.
The central point to simplicity is to seek God first, then everything else will fall into proper order. A single undivided focus on God, a single-minded heart.
I am beginning to form a concept about this practice. I identify what distracts me from God and the stuff, possessions, and attitudes I cling to due to fear, hurt, and ego. I slowly cultivate the skill and art of releasing them, learning that I can survive with much less. All this creates space for God's spirit to dance freely within me.
Simplicity is untangling my life to life freely as God created me and possessing only what really matters.
[bctt tweet="Simplicity is untangling my life to life freely as God created me and possessing only what really matters. Jean Wise " username="Jeanwise"]
Steps for Simplicity – ADORE
God first. We start with God in all our spiritual practices. To help remind me to live more simply, I compiled ideas to form the acronym of ADORE. My eyes and heart focused on God and I adore him by following him and living my life for him.
ADORE stands for
A – Awareness and assessment
D – Decisions to declutter and downside
O – Ordering, then omitting the objects that obstruct and obliterate the openness around and within me.
R – Release/Refuse/ Reject
E – Evaluate and enjoy
A – Awareness and assessment of all we have accumulated. Just writing these posts this month, pondering last week's quotes, and rereading books about simplicity has put this practice onto my radar more. Awareness of how complicated life has become, fatigue from decision making and maintenance of schedules, commitments and possessions, and being mindful of the amount of stuff I've accumulated begin my journey deeper into this practice.
Just imagine if right now you were moving to a smaller home. Ever watch Tiny House on HGTV? Could you live in 200-400 square feet? What would you keep? What is the essential?
What if authorities right now came to your door and said you had to evacuate within the next 15 minutes. What would you grab?
One more scene I pondered:  my hubby and I have died. What will the kids do with all this junk, mess and matter crammed in these rooms, "hidden" in basement boxes, and jammed into garage storage?
None of these scenarios have occurred ( Yes I am still alive, LOL)  but the thought of them help me pay attention to simplicity. I then observe and assess all the stuff blessings I do have. Awareness and assessment is the first step.
D – Decide to declutter and downside. We have to start someplace. Just choose to begin. The last few months, my hubby and I take one box from the dark dungeon basement and empty, recycle, shred the content. Only a few items have re-entered the lower level. Yes months, but the basement is looking much better.
I love listening to the podcast – Organize365.com – Lisa Woodruff shares wonderful ideas for decluttering no matter what season of life you are experiencing. She motivates me to keep  going in this process.
Another D could be DEVELOP the habit of giving things away.
O – Ordering, then omitting the objects that obstruct and obliterate the openness around and within me. OH, I do love alliteration. LOL. But this takes us back to the idea of creating space in all areas of our lives for God to dwell.
Think about what takes you away from God. What draws you nearer to him? What preoccupies your heart and mind instead of God? Eliminate activities, commitments, objects, habits that distract you from the seeking God first. Ask God to show you where to begin, what needs to be managed different and to give you new eyes to see fresh possibilities and the wisdom and courage to implement these changes. How can you better order your space, time, thinking? Be creative. Be open. Be willing.
R – Release/Refuse/ Reject. What can you right now release? Decide from now forward to only buy things for their usefulness, not their status. Refuse the sell, sell, sell propaganda of the latest gadgets, the Amazon summer sales and Kohl's cash to spend, the urgency of now and the Fear of Missing Out (FOMO) that drives our buying frenzies. Refuse to enter the comparison game of what others possess (I certainly fall into this when watching HGTV). What behaviors and outdated beliefs cling to my heart? What relationship needs attention? What fills my hands so I cannot reach out to God or to others? How can we reject what feeds addictive behaviors within our minds, confusing our wants with our needs? I am so guilty when it comes to purchasing books or buying the latest course to improve my writing. I am learning to pause before buying, postpone before pushing the pay button that so many internet marketers make so easy with one-click buttons. The toughest one for me right now is learning to reject anything that creates oppression of others. I live in bubble of denial where my clothes are made. I am educating myself how the first world rich countries obtain cheaper objects in the sweatshops of poorer maltreated fellow sojourners in this world. Hard lesson to learn.
E – Evaluate and Enjoy. Living in simplicity will be a lifelong journey for me and I bet for you too. Slowly I am  becoming aware of, objectively gauging how I am doing, and daring to ask the questions, instead of relying on excuses of ignorance or neglect. How am I spending my time, my money, my life? Am I enjoying simple pleasures and foods? Am I using something up before buying something new? How am I enjoying God's creation in the parks and beauty of this land? Am I checking out if our library system has a book before I purchase it instead?
This isn't easy 1-2-3 steps to simplicity. Even as I write this, I feel a bit overwhelmed. So it is one step at a time, always seeking God's guidance, wisdom and lead. The desire for simplicity sparks and sustains single-mindedness towards God.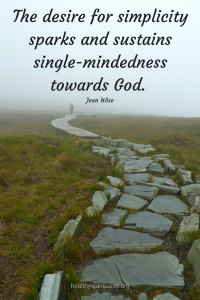 [bctt tweet="The desire for simplicity sparks and sustains single-mindedness towards God. Jean Wise" username="Jeanwise"]
Lord, grant us all the courage and wisdom to live in simplicity.
What will be your first step toward simplicity?