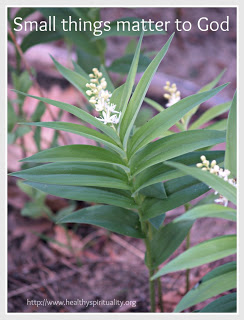 Do small things matter to God
?
We live in a world where everything is supersized and maximum strength. We see airbrushed models as real. We ask what went wrong when someone gets a silver medal in the Olympics instead of gold or a student earns a B+ instead of an A.

 
So often I feel I am not enough. My gifts are too small and insignificant to make any difference. My failure to live up to my expectations and the internal voices telling me what I "should" be doing block me from growing closer to God and from following His will. I focus more on what I lack instead of focusing on who God is.

 
I really needed to hear the gospel lesson this week.
I listened to familiar story read on Sunday morning. Jesus gave thanks for the young boy's small gift of five loaves and two fish and then the entire crowd had more than enough to eat.
It started with an unnamed, small boy, barely noticeably in the huge crowd. The scripture isn't even clear if he voluntarily offered his lunch or if the disciples had to ask him for it. Even the disciples knew there wasn't enough to feed everyone there.
But Jesus gave thanks anyway and there was enough. More than enough.
Do small things matter to God?

 

Too often I let the worry or shame of the size of my gift stop me from offering it to God. I am finally beginning to really believe God isn't worried about its quality, the quantity, or its perfection: He will make it enough. And then more than enough.
"Always keep your eyes open for the little task, because it is the little task that is important to Jesus Christ. . . .
The great flowing rivers represent only a small part of all the water that is necessary to nourish and sustain the earth. Beside the flowing river there is the water in the earth — the subterranean water — and there are the little streams. . . . Without these other waters — the silent hidden subterranean waters and the trickling streams — the great river could no longer flow. Thus it is with the little tasks to be fulfilled by us all."
"We cannot do great things. We can only do little things with great love."
Only five loaves and two fish.
Only a small single coin in the offering.
Only a mustard seed size smidgen of faith.
Only a smile to a stranger.
Only a kind word passed on.
Only a small baby in a manger.
God accomplishes His work through the small things. He perfects our inabilities, our brokenness, and our lack of enough to make a difference. He pours His power into our littlest and our least and our inadequacies and failures.
And that is more than enough.
Where have you seen God in the little things lately?