Self-discovery and reflection are surprising spiritual disciplines. But God knows us better than we know ourselves and learning to be our true selves, as God created us, is a lifelong discovery we are all called to do.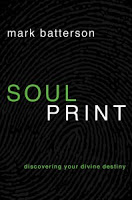 I recently received Mark Batterson
's new book, Soul Print

, as a blogger book reviewer for Multnomah. I enjoy reading this type of book that doesn't focus on being self centered in our exploring our true identities, but God focused in living lives for Him.
"You are unlike anyone who has ever lived. But that uniqueness isn't a virtue. It's a responsibility. Uniqueness is God's gift to you and uniqueness is your gift to God you owe it to yourself to be yourself. But more important, you owe it to the One who designed you and destined you."
This book empowers the reader to look deeper and discover the joy of who you are and the freedom of who you are not. Batterson fills this easy to read book with interesting stories and thought provoking questions. You can tell he loves the stories of David as he uses him as an illustration throughout the book.
"When it comes to the will of God, we tend to focus on what and where, But what you are doing or where you are going are secondary issues. God's primary concern is who you're becoming…The end goal is not a revelation of who you are. The end goal is a revelation of who God is. The only way to discover who you are is to discover who God is because you're made in His image."
One interesting chapter is titled Life Symbols and the author challenges us to surround ourselves with items that reflect our life. These ordinary objects help us remember who we are, what shaped us, and how these life experiences form our present and future.
Take a look around your home. What life symbols do have now? What would you add? Interesting to think about, isn't it?
I must say, though, I was disappointed that this book quoted other people and other than Batterson's anecdotal stories, didn't add much new material for me.  I like "meatier" books and kept looking for a great "a-ha" that never materialized.
"Who Am I?" is an age-old question we all struggle with. This quick-read book may help you discover who God created you to be.