Winter is my least favorite time of year. This time of year enfolds me with a sense of emptiness and loss of hope. My mood reflects the dreary gray winter sky that blanket northwest Ohio.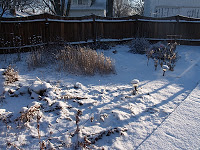 But the last few years I see winter with new eyes and a renewed appreciation of its beauty and purpose. I am surprised at this new phenomenon and the joy I have discovered in it stark loveliness.
Bird nests were the first indication of seeing winter in a new way. My eyes were drawn to them. I saw them everywhere. Tree branches, now barren, allowed me to see them where they were hidden before.
Every time I looked up, multiple bird nests materialized. They beckoned me, "
Look at me, I have something to tell you
." In His mysterious way, God began to invite me to wonder about these empty and barren nests.
      The nests were not just empty, but represented hollow vacant cups, waiting to be filled. Instead of focusing on what they did not have, they remained open, ready to hold new life that was yet to come. These ordinary nests made of everyday stuff, though empty, slowly pulled me into a new realization. The nests symbolized a lesson that began to transform me to hear what God's lesson.
The nests embodied God's promise of fresh beginnings in the next season. That simple change in my perspective permeated my soul. My feelings of being mired in dreariness and dryness disappeared. For the first time in a long time, I felt hope.
Our lives are like these nests, having seasons of production and times of rest. The ordinary everyday stuff like twigs of good times and laughter, straw of tears and tensions, soft down of love and community, and mud of confusion and change make up most of life's events. God's presence still exists even in the dreary season of winter while He is quite actively preparing each of us for new growth.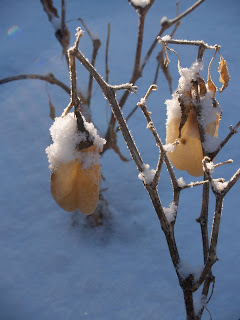 I glance out of my office window and see my garden at rest. Its stillness tells me to create a space to listen to God and to nourish my roots to become stronger for the season ahead.
    Richard Foster in his book titled
Prayer

,
writes, "
Winter preserves and strengthens a tree. Rather than expending its strength on the exterior surface, its sap is forced deeper and deeper into its interior depth. In winter, a tougher more resilient life is firmly established. Winter is necessary for the tree to survive and flourish."
In my journal I wrote, "
I fell in love with winter this year. The stark silhouettes of the barren trees against the gray skies; the sudden appearance and attraction to bird nests – hollow, empty –composed of ordinary stuff of life, waiting to be filled. Waiting to be filled."
I originally only saw the emptiness and hopelessness in that dreary winter season. God led me to a new appreciation of this time and taught me a valuable lesson. Every winter since then, I search the barren tress for the bird nests. Instead of emptiness, I now see symbols of hope and promises of new expectant life. I see beauty in winter.
What does winter show you?