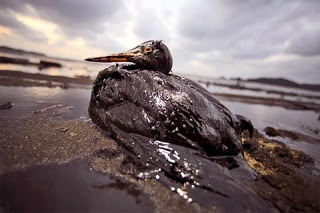 Recent newscasts show the growing tragedy of the geysers of oil spewing into the Gulf of Mexico.
Perhaps the scene that breaks my heart the most is the wildlife struggling to survive, drenched in thick brown muck.
Some float and most barely walk, no, they weakly stagger, under the weight of the heavy oil. The only signs of life we can see is their desperate eyes pleading for help. They know they cannot save themselves. They seek hope.
The cleaning process for these exhausted birds begins with covering them in Canola oil, followed by a thorough bath in dishwashing detergent and water. Volunteers spend at least one full painstaking hour of scrubbing, rubbing, and rinsing to get each bird clean.
I thought of these pelicans this past weekend when discouragement overwhelmed my heart. I dragged with a heaviness of spirit, weighted down in the messy muck of this favorite tool of the devil.
The evil one knows too well my Achilles heel and attacks me, especially when I am tired.
What is the cleaning process for discouragement?
Just like outside hands comfort the frightened pelican, gently clean their feathers and nourish them with food and water, God's hands will protect and sooth my frazzled desperation. I draw strength from His presence and healing oil knowing I am His child. I snuggle into His arms in prayer and rest, knowing He will and has already saved me.
I lay my hopes and desires in His will, not my unrealistic expectations, which often are the cause of the discouragement.
He alone is perfect; I am not. God is my hope.
I have learned, like the unplugged geyser in the Gulf, discouragement easily gushes with negativity. I can focus on that or I can choose God.
I wish I could say I immediately turn to God but often let self pity overpower me for a time before, exhausted, I stagger weakly into my Healer's hands. We can't always avoid discouragement but we can, once we recognize it, ask for God's help in walking away from its shackles.
Psalm 61:1-2 tells us "Hear my cry, O God; attend unto my prayer. From the end of the earth will I cry unto thee, when my heart is overwhelmed: lead me to the rock that is higher than I."
The Christian life is not a constant high. I have my moments of deep discouragement. I have to go to God in prayer with tears in my eyes, and say, 'O God, forgive me,' or 'Help me.'
Billy Graham
How do you rise above discouragement?