We think we know what is going on.
 We assume we know the full story. We take for granted what we are seeing is what actually is occurring.
The eyes of our heart can trick us too. This is one lesson that wind turbines taught me this week.
On our way to Columbus we pass a huge wind farm. More than 100 of these giants take over the landscape on both sides of the road. I am glad I am the passenger and not the driver last week as I couldn't take my eyes from their graceful dance and twirling.
"I would think they would turn quicker in this strong of a wind," I said to my hubby. "They spin and rotate at such a leisurely pace."
Be mindful of your "wonderings"– often God uses them as lessons.
"I wonder how fast they really spin?"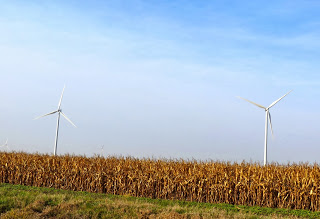 I knew immediately I would have to look up this fact. Any ideas on how fast the tips of these giants really turn?
Of course it depends on the size, location and speed of the wind, but goggling this question I learned with wind speeds of 10-15 mph, the tips move at an average clip of 120 mph. I read about others ranging from 180-200 mph and even one tracked at 232 mph.
I would never have guess that fast of a speed. Much faster than our eyes tell us as we watch them.
I think the wind turbines remind us that when have to wait for something, the answer may be coming sooner than we realize. Waiting is hard, especially in a difficult time when time seems to move like ketchup trickling from a new bottle. Could it be time is moving faster than the eyes of our heart recognizes?

 
Next time I am enduring a painstakingly slow difficulty, I think I will drive down and watch the wind turbines and listen to God.
The wind blows where it will. You hear the sound it makes but you do not know where it comes from or where it goes.