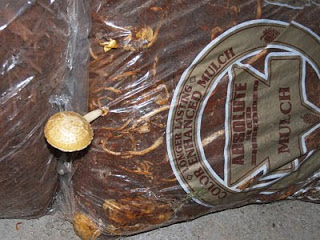 I didn't see it happen. My husband walked in from the garage, obviously amused by something he observed. He looked like the Cheshire cat with a silly grin on his face and twinkle in his eyes.
"You are quite the gardener," he said with a mischievous smirk.
"What do you mean?" I asked, squinting my eyes with a growing suspicion that the answer was not one I was going to like.
"You have grown a wonderful batch of mold and mushrooms in the garage."
I investigated and found out it was true. Yucky mold and yellowish mushrooms thrived, spreading their deep golden roots throughout my neglected bag of mulch. Several sprouts stalwartly burst through the plastic bag. A healthy bag of mulch whose purpose was to encourage the blooming of gorgeous backyard flowers now served to grow ugly things that never should see the light of day.
I did have good intentions but neglected to follow through.
I find that also true of my spiritual walk at times.
My soul is best nourished with daily prayer, reading the scriptures and listening to God. I am healthiest when I first focus my attention on Him who created me.
When I neglect the care of my soul, moldy habits grow deep roots producing unintended consequences.
And it happens so quickly.
My lesson?
Don't neglect what I know needs to be done. Inattention and carelessness will not only grow things that you don't want in live, but also waste what used to be good and healthy.
What is neglected is soon forgotten then becomes rotten.