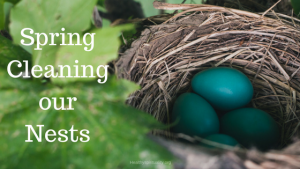 Spring cleaning time! Spiritual spring cleaning too!
I don't know about you, but I am fired up to unclutter, clean, and generally corral all the messes in my house. This season energizes me for scrubbing, polishing, and peering into corners and cabinets to get rid of dust, crumbs, and junk.  But what about Spiritual Spring Cleaning?
I began thinking about this as I watched Lucy, the robin I wrote about a few weeks ago. She built her nest. She laid her eggs. She sat and sat and soon hatched eggs.  Now Lucy has been dutifully attending, feeding, and caring for three babies with constant open mouths begging for more food, attention and her presence.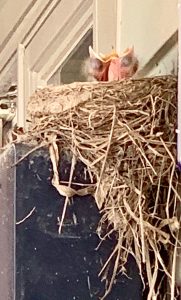 Not only does she bring them curly, squirmy worms to fill their tummies, each time she tidies up the nest. She looks around, pokes under each baby, and picks us what no longer belongs in her home. First, she inspired me with her persistence; now she inspires me with her practice.
Spiritual Spring Cleaning
Lucy is teaching me three things about spiritual spring cleaning.
Routine – what gets built into my habits, rituals, and schedule, gets done. I can wish and plan all I want, but unless I carve out the time to work on what is important, often the urgent and distractions overcome my heart.  Daily prayer. Consistent Bible study. Journaling and going on retreat. Confession. Being and deeply listening to God on what needs to stay and what needs to go. Essential practices of spiritual spring cleaning.
Seek – Be curious. Look underneath. What isn't being done? What is being missed? What is lurking in dark corners? Lucy scrutinizes the nooks and crannies of her nest. She examines what isn't at first obvious but needs attention. In silence, I hear the whispers of my spirit. In stillness, I sense a hunger, an emptiness, an itch inviting me to stretch and grow. In solitude, I ask God to shine his light on my shadows and blow the dust from my soul.
Ask – Spiritual spring cleaning means asking the difficult often neglected questions. Is it time to let go of what I am comfortable with and embrace new adventures? What is capturing my attention instead of God? What has become a crutch instead of walking with the Spirit? What does my calendar, to do list, agenda and checkbook tell me about my priorities? What is filling the space of my heart instead of God? Where do I have spiritual blinders on, missing God's invitations? What fresh possibilities await me yet this year?
Lucy's three babies are stretching their wings and have about outgrown their nest. They soon will be gone.  We decided for the time being to leave the nest she so diligently created alone, just in case she wants to use it again. But I sense she may start again elsewhere.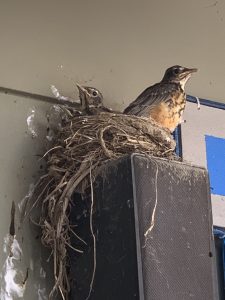 That is another lesson, isn't it? Leaving what we know and starting again anew. Spring cleaning our hearts and souls to fly with God the Creator into new chapters.
How is God inviting you to spring clean spiritually this year?