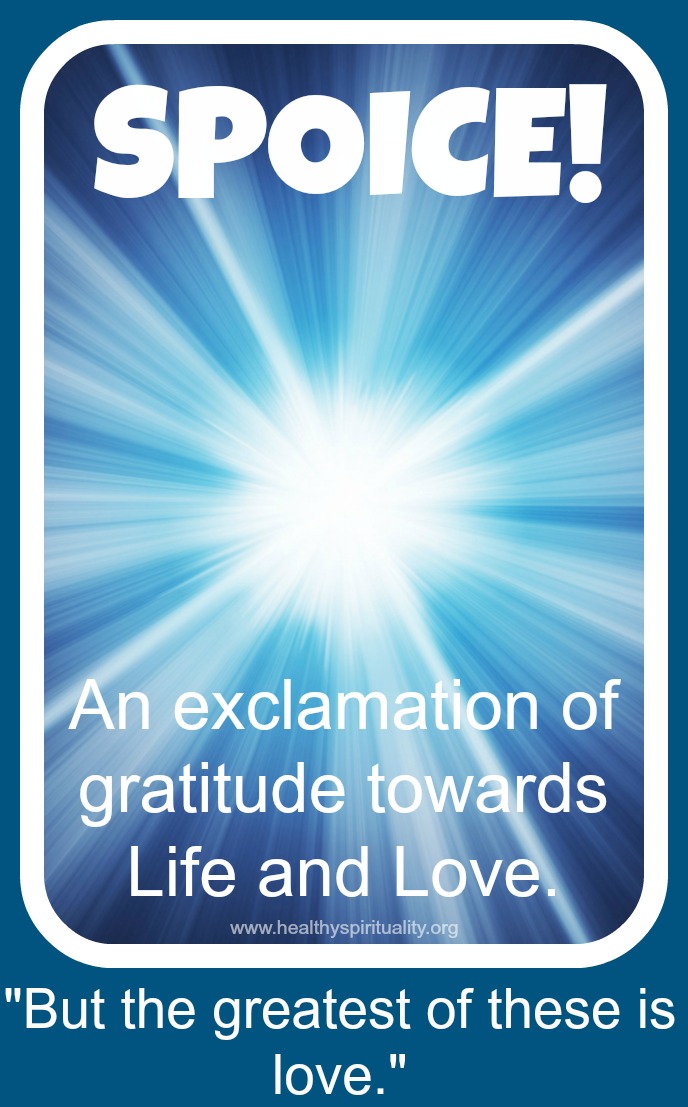 I learned a new word this week – SPOICE.
Sage Kotsenburg tweeted a message after the American won a gold medal in the men's snowboarding slopestyle event in Sochi.
"Keep it spoice."
Was this a Russian word? Actually no. Surprisingly, it is good ol' US slang, rising from the snowboarding culture. I never heard of it before.
The Urban Dictionary defines Spoice this way:
"Spoice is an exclamation of gratitude towards life. It's the proper word to use when you find yourself in a situation involving a multitude of positive things at once. You may only utter it with pure joy behind it."
Let's say this fun word together. Ready?  SPOICE!
Saying this word out loud it reminds me of the word: rejoice. I almost smile when saying it.  A fun word. A festive word. A great word to use to celebrate and enjoy a special moment.
I helped to lead worship Sunday morning. As we sang the Hymn of Praise, I faced the altar and looked up at the cross. For a moment it felt like I was standing in front of the Lord upon his mighty throne.
"Lord God, heavenly King, almighty God and Father, we worship you, we give you thanks, we praise for your glory." 
That moment was a Valentine's Day card from God to me. In a world where often we don't feel loved, accepted or worthy – He invited me to come near him and sing to him.
Spoice!
I came to him empty handed except for my praise but left rich with his gifts – priceless and precious tastes of faith, hope and love.
"And now these three remain: faith, hope and love. But the greatest of these is love."
 1 Corinthians 13: 1
God peeled back the curtains and gave me a glimpse of heaven.
Spoice! Thank you for faith, Lord.
He held out his arms and accepted me as his child.
Spoice! Thank you for hope, Lord.
And he touched my heart with his powerful and compassionate spirit:
Spoice! Thank you for love, Lord.
I worship with pure joy for the multitude ways God loves us.
I think it's time to amend the definition of spoice.
Spoice is an exclamation of gratitude towards Life and Love. And the greatest of these is Love.
Spoice! 
Where have you experienced God's love?