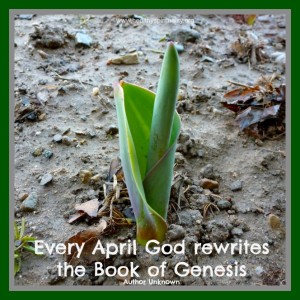 I'm an optimist. In spring my enthusiastic sunniness beams brighter than usual. Spring is my favorite time of year.
Until it snows in April.  Yep, last weekend while we had only a dusting on the grass, one county about an hour east of my house accumulated 10 inches of heavy white winter.
And just a second ago, my cell phone chirped a weather alert for below freezing temperatures tonight.
If I remember right, Punxsutawney Phil didn't see his shadow, so predicting quite strongly there would be an early spring.  So much for that rat being right.
In the Spring, I have counted 136 different kinds of weather inside of 24 hours.
Mark Twain
Spring where are you? 
Yet I have hope. The rotation of the seasons shows me God's faithfulness and his oversight – spring will come, then summer, fall, winter, spring and so on. He is the creator, has the control, and also the authority over all things.
Each day reminds me of this comforting cycle of rest and renewal – sun up, sun present, sun down. Repeat. Repeat.
No winter lasts forever; no spring skips its turn.
Hal Borland
Lessons in the changing of the seasons and revolutions of the earth.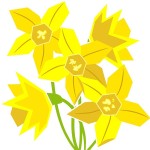 Last fall I planted somewhat-ugly daffodil bulbs.  I remember the wind blew cold that day and my fingers stiffened messing with the icy brown earth. I forgot them over winter, yet today I see their green slender leaves reaching upward to their creator, praising for life.
Spring reminds me that I am not God, not in control, and all things will bloom in his time. To be honest it is nice to pass that responsibility onto a higher, wiser, and more compassionate God. 
We bought Easter lilies to decorate the church this year and now have one sitting on my dinner room table.  As I walk by my nose catches its fragrant reminder of its presence. I wonder how much delightful and pleasant brushes with God, I miss each day, focusing more on my busyness and ignoring the present moments within each day and season.  

My word of the year for 2016 is JOY. Seeing hints of spring, trusting in God's cycles, and finding hope in lighter days makes me smile. I ask myself daily – where did you experience joy today?  There hasn't been a day go by that I haven't found at least some joy and most days, joy surged every second.
Spring is life. I am alive and grateful for another spring.
Hope wraps her strong arms around me on a cold April evening. Courage arrives shortly after reassuring me of better days ahead.  Wisdom opens my eyes, not to focus on the frost, but to see the future possibilities in the greening buds in my garden. Faith deepens when I hold onto the promises of God.
Every season has its purpose and timing. But spring awakens us in new ways, gifts us with new life to grow and enjoy, and then spring optimism blooms.
Spring being a tough act to follow, God created June.
Al Bernstein 
What's your favorite season and why?