We traveled last week and discovered with joy New Mexico. What a wonderful trip.
Returning home to the crazy routines of daily life, we soon realized that uninvited squatters had taken over our backyard.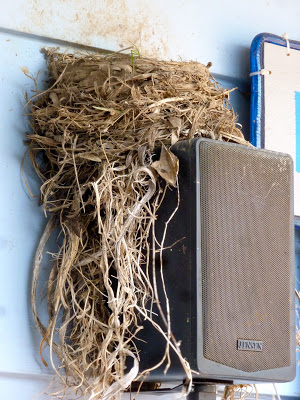 Yes two robins built a nest in the short time we were gone, claiming the top ledge of the outside speakers for our music. I am sure they thought this was a quiet place with no visitors since there wasn't any movement in the house for a week.
Their twiggy nursery is located near my office window. Mrs. Robin keeps an eye on me but if I linger by the window too long watching her, she flies off to the nearby fence. I fretted that my activity would scare her from keeping those blue eggs warm, so slowly pass that window without sudden movements.
I am pretty certain she thinks we are the squatters.
We've decided to keep the music off so the noise doesn't startle the little ones. I smile, as I know it won't be long until I will see them feeding the babies and all too soon they will fly off for new adventures. Then the nest will be empty and quiet and awaiting new life.
The joy in watching new life gives me hope.
The blessing of sharing space with God's creatures fills my heart with wonder, knowing God takes care of them too.
The appreciation of how quickly time moves on and babies hatch and grow up before we know it.
Two robins nurturing, protecting and providing reminds me Someone is nurturing, protecting and providing for me too.
These squatters may have been unexpected, but what delight they add to springtime.