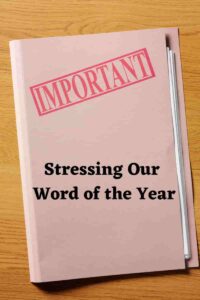 Are you stressing when pondering your word of the year? I don't mean freaking out, being anxious, or fall apart. Stressing can also imply importance, weight, significance.
Some years my word so preciously chosen in January fades by February. By summer I can't even remember what the word was. One year a new word emerged every quarter.
The last few years my word has held steadfast, staying close to my heart, stretching me at times. Its presence feels like a trusted friend, along for the ride through all the ups and downs of our time together.
I have learned to stress my word. One way is to anticipate what I will share on this blog with you concerning the spiritual lessons I am learning. You, dear reader, are my accountability partner and may have never realized that. Thank you!
My word pops up frequently in my prayers and journals too. I jot down new insights to its meaning. I listen for God's nudges to go deeper. I ask how has this word changed me? How has this word changed since January?
I stress my word(s) in spoken language too. This year I heard a phrase not a singular word – Honor the Thirst Deep Within. Each word has had its moment. I have wondered and explored meanings. Research Bible verses shedding light on its content.
But this month each morning I am stressing the words in a form of a prayer. Each morning a heightened awareness takes root in my soul:
HONOR the thirst deep within.
Honor THE thirst deep within.
Honor the THIRST deep within.
Honor the thirst DEEP within.
Honor the thirst deep WITHIN.
Stressing our word become like a breath prayer for me. I imagine this could work with one word too. Just find a Bible verse or a quote or a simple prayer using your word to repeat each day. Then allow its wisdom to seep into your heart.
The word stressing does have negative implications but isn't this a fun new way to "stressing?"
How are you living this year with a word that resonates with your soul?  It's not too late to listen and adopt a word of the year!