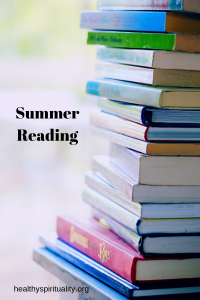 What is on your summer reading pile?
I like to periodically update you all on what I am currently reading.
Here are three I have read lately that are lingering in my mind and heart:
A Prayer Journal – Flannery O'Connor
Interesting collection of journal entries of writer Flannery O'Connor written between 1946 and 1947.   Most are her prayers/conversations with God and her discernment as she discovers herself as a writer.
What a great writer even in her journal entries. Lovely words like this:
"Dear God, I cannot love Thee the way I want to. You are the slim crescent of a moon that I see and my self is the earth's shadow that keeps me from seeing all the moon. The crescent is beautiful and perhaps that is all one like I am should or could see; but what I am afraid of, dear God, is that my self shadow will grow so large that it blocks the whole moon, and that I will judge myself by the shadow that is nothing. I do not know you God because I am in the way. Please help me to push myself aside. "
Wow, what a prayer and one I am bringing into my own journaling and time with God.  Also, this inspires me to be as honest and creative in my own jottings.
Sensible Shoes – A story about the spiritual journey by Sharon Garlough Brown
I rarely read fiction, but a friend told me about this book I borrowed from the library. Seeing the tag line you can tell why I loved the story and how each character discovered herself in God on their own individual's paths.
Sensible Shoes tells the story of four women coming from very different lives who meet at a retreat center. Their stories weave together, a little predictably ( my issue with many fictional books).  I love how spiritual practices are introduced and experienced through the characters and how readers see what talking with a spiritual director is like.
Discovered this is the first in a series so guess I will be reading more fiction this summer. ( :
The First Principle and Foundation of Ignatian Spirituality
Written in the 1400s by St Ignatius but still resonates with our deepest desire and yearning today.
Recently I reread this version paraphrased by Jesuit David Fleming.  I have printed the words into my journal for my daily prayer and to help frame my intention for my upcoming silent retreat in August.
The goal of our life is to live with God forever.
God who loves us, gave us life.
Our own response of love allows God's life to flow into us without limit.
All the things in this world are gifts from God,
presented to us so that we can know God more easily
and make a return of love more readily.
As a result, we appreciate and use all these gifts of God
insofar as they help us develop as loving persons.
But if any of these gifts become the center of our lives,
they displace God and so hinder our growth toward our goal.
In everyday life, then, we must hold ourselves in balance
before all of these created gifts insofar as we have a choice
and are not bound by some obligation.
We should not fix our desires on health or sickness,
wealth or poverty, success or failure, a long life or short one.
For everything has the potential of calling forth in us
a deeper response to our life in God.
Our only desire and our one choice should be this:
I want and I choose what better
leads to the deepening of God's life in me.
— St. Ignatius as paraphrased by David l. Fleming, S.J.
What summer reading is transforming your heart and life this year?