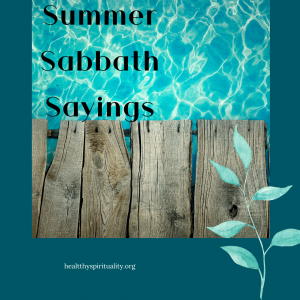 Summer sabbath is the slowing down and savoring the beauty, refreshment, and renewal of summertime. For many of us summer means travel, camping, fresh fruit and vegetables, water activities, ice cream, family get-togethers, and backyard BBQs. Even in these times following pandemic rules and recommendations, people long for the refreshment of a change of pace.
Of course, I am writing this from Ohio, in the Northern Hemisphere. For those living south of the equator, please pardon my wandering through the warmth and sunshine.
I am heading out this week and returning midweek next week for a postponed from last year and alleluia we can go this year trip. So I gathered some thoughtful and fun sayings about summer sabbath for your pondering and joy:
One must maintain a little bit of summer, even in the middle of winter. Henry David Thoreau

When the sun is shining I can do anything; no mountain is too high, no trouble too difficult to overcome. Wilma Rudolph

If you have a garden and a library, you have everything you need. Marcus Tullius Cicero

Some of the best memories are made in flip flops.  Kellie Elmore


My favorite weather is bird-chirping weather. Terri Guillemets

Rest is not idleness, and to lie sometimes on the grass under trees on a summer's day, listening to the murmur of the water, or watching the clouds float across the sky, is by no means a waste of time. John Lubbock

A life without love is like a year without summer. Swedish Proverb

Summer is the time when one sheds one's tensions with one's clothes, and the right kind of day is jeweled balm for the battered spirit. A few of those days and you can become drunk with the belief that all's right with the world. Ada Louise Huxtable
If you saw a heat wave, would you wave back? Steven Wright

I am Summer, come to lure you away from your computer come dance on my fresh grass, dig your toes into my beaches. Oriana Green

God's gifts are measureless, and there shall be eternal summer in the grateful heart. Celia Thaxter
See you in 10 days so no blog post next week but I will be back mid-August. Take a moment and appreciate this season. What are you most grateful for in summer?  Me?  Blueberries, flowers, warm breezes, and my backyard deck.  How about you?