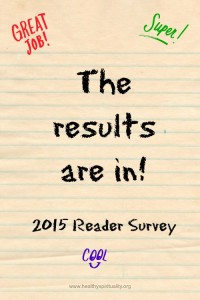 Thanks to all of you who took the time to fill out my little survey from a few weeks ago. As I read and summarized it, I found surprises, insights and affirmations. Your kind comments warmed and encouraged my heart and your honest sharing fostered a deepening connection and compassion for all of you. Again thank you.
What did I discover?
Affirmations: Most of you like when I post twice a week – just the right amount of time. I reduced the number of posts a few years ago from four to two and wondered how you liked it. I haven't lost as many email list subscribers that way. People just get so much email I felt I had to be careful with my number of posts. Great feedback.
Also your feedback on my topics was also beneficial and you gave me a wonderful list of ideas for upcoming posts. I also want to do more mini series to provide more depth.
Insights: Your list of spiritual practices both confirmed and inspired my writing. The most used practices are ( won't be too shocking read this) prayer, bible reading/studying, spiritual reading/devotions, journaling, silence and listening to God and spiritual conversations.
About half you would listen a podcast if I added this to my blog. I am gathering all the info I need to start this so look for this addition sometime in the future. I will probably still write out a post for those who don't listen to podcasts, then add the recording with more info for others to listen to. I love listening to podcasts when I walk. Makes the time go so quickly.
Surprises: Most of you reported Facebook and twitter as your usual social media but I was surprised that no one reported using Pinterest or Instagram. Every place I read more and more people love visual content so I was amazed to have nobody report using those two mediums. I have recently been exploring live streaming on Periscope too.
And my other surprise was the depth of challenges many of you experience. My heart ached reading some of them. God is with us in all difficulties and it is my hope that maybe in our community on this blog we can pray and support one another. Many of us are walking through difficult relationships, times of transition, and trying to live faithfully in an age of skimming and surviving with shallow and shiny objects attention spans.
No surprise at all: Most of us express a deep desire to grow closer to God, to know him better and to live in his presence in our daily living. Let's do this together.
So watch for some new things this fall in this space in response to your sharing on the survey. Thanks again and please invite your friends to sign up on the email list.
What new thing will you be doing or trying in the next few months?