I paid no attention.
It was routine as usual.
My mind scurried ahead, planning my next half hour and really, the rest of my day.
Grabbing my second cup of coffee, I casually walked back to my office ready to write this post.
But God jumped in and surprised me with a surprise serendipity.
Passing by the window, movement from my garden caught my eye.
A tiger swallowtail butterfly danced on my flowers.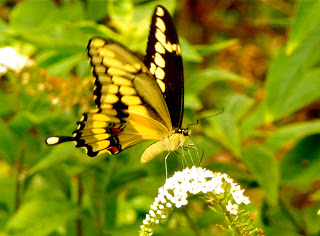 Grabbing my camera, all my plans disappeared. I knew this was a moment to capture.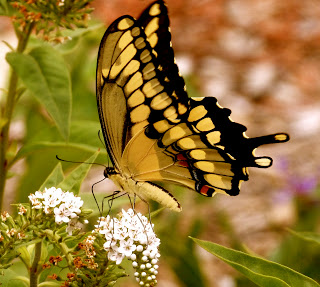 Amazingly I crept so close, I thought this delicate creature might land on me instead of the flowers.
God dipped into his paint well for colorful details. Look at His workmanship in the tiny joints and beady eyes.

Intrigued, I wanted to know more. Take a look at these fascinating details about butterflies. Imagine how complex and perfect is God as Creator.

·
There are about 24,000 species of butterflies
·

     
Butterflies "smell" with their antennae and "taste" with their feet. Butterflies have one pair of segmented antennae. The basic shape is clubbed, meaning the segments increase in size, as it gets further away from the head. Butterflies use their antennae to detect which plants are producing nectar and males can sense pheromones from females of the same species. Butterfly antennae are also used for balance and for detecting wind speed.
·

     
Butterflies have six jointed legs and each leg has six parts. Butterflies are also able to locate food sources by using the chemoreceptors in their legs. Many butterflies can taste with their feet to find out whether the leaf they sit on is good to lay eggs on to be their caterpillars' food or not
·

     
Butterflies range in size from a tiny 1/8 inch to a huge almost 12 inches
·

     
Butterflies can see ultraviolet light (light invisible to the human eye), which makes the markings on flowers very vivid to them and guides them to the nectar tubes. Some butterflies have ultraviolet reflectants or markings on their own wings, which are visible only to other butterflies.
·

     
Butterflies weigh only as much as two rose petals, but they can fly thousands of miles.
·

     
Butterfly wings are covered with tiny scales, each a single color. The iridescence of some butterflies results from a reflective microstructure on the scale's surface. Their wings have 125,000 scales per square inch.
By the time I sat in my office by my computer, I could no longer remember what I was gong to write about for today. Instead, God took me on a journey to my own backyard to witness His creation in a new way. What a blessing to pause and behold such a beautiful creature of God.
Creator God, I am amazed at Your workmanship. If you see to the beauty and tiny details of a yellow Tiger Swallowtail, how much more you must shape the specifics of my life. Remind me to pay attention to details as You do. I don't want to miss another sacred glimpse of Your love.