Patty Wysong has created a fun meme where once a week bloggers posted on the letter of the week. Check out the details here.   It is called A2Z: Take 2. A2Z as she challenges bloggers to write a post each week going through the alphabet.

 

Take 2 since this is the second time she has used this meme. Anyone can join in and you don't have to always participate.
This fun meme has now progressed to the letter O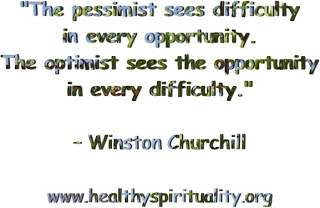 I haven't always been an optimist. In fact I think I am wired quite the opposite.
But as an adult I decided optimism as a trait appealed to me; thus began my search to develop this characteristic. Uphill battle, let me tell ya!
I collect optimism – quotes, stories and even have given a few presentations about the value of being positive. Being a nurse, I have seen the difference in the healing and recovery of people with optimism as compared to the pessimist state of mind.

 
With today's letter of the alphabet being O, I thought I would share a few fun things I have read about this encouraging word:

 

Optimism comes from the Latin word for best. An optimist expects the best in the world.
I think the best optimist is not just a Polly Anna "everything is rosy" type, but one who also has her feet firmly rooted in the ground.
Here are ten of my favorite quotes about Optimism:
 

I'd rather be an optimist and a fool that a pessimist and right. Albert Einstein
A pessimist complains about everything. An optimist expects it to change and a realist adjusts their sails. William Arthur Ward.
Remember a pessimist's blood type is always B-. Unknown

 
An optimist is the human personification of spring.  ~Susan J. Bissonette
In the long run the pessimist may be proved right, but the optimist has a better time on the trip.  ~Daniel L. Reardon
Even if I knew that tomorrow the world would go to pieces, I would still plant my apple tree.


 

Martin Luther
The essence of optimism is that it takes no account of the present, but it is a source of inspiration, of vitality and hope where others have resigned; it enables a man to hold his head high, to claim the future for himself and not to abandon it to his enemy. Dietrich Bonhoeffer
The average pencil is seven inches long, with just a half-inch eraser – in case you thought optimism was dead. Robert Brault
Things turn out the best for the people who make the best of the way things turn out. –  John Wooden
So many of our dreams at first seems impossible, then they seem improbable, and then, when we summon the will, they soon become inevitable. – Christopher Reeve
And a funny poem to end with today:
Between the optimist and the pessimist,
The optimist sees the doughnut;
Let's keep our eyes on those doughnuts.

 

Are you more of an optimist or a pessimist?