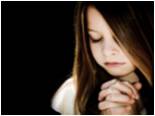 Too often we complicate prayer.
We stop and think hard, forcing ourselves to find just the right words, only to stammer because we can't utter any words. Or are our ordinary words not big or magnificent enough to use for God?
"Pray as you can, not as you can't" – Dom Chapman
Simple prayer is simply telling God whatever is on your heart – the frustration with a family member, whining about the church music, quietly crying over a heartache or jumping up and down with joy and celebration.
"
Simple prayer involves ordinary people bringing ordinary concerns to a loving and compassionate Father
."
Richard Foster
The Bible contains many rich examples of prayer.
I will pray some of the shorter, simpler ones when I don't really know how or what to pray.
May these ten simple prayers from the Bible bless your prayer time:
1.

    
I do believe, help my unbelief
. Mark 9:24
2.

    
Give light to my eyes
Psalm 13:3
3.

    
O Lord; in the morning I will direct my prayer to You, and I will look up
. Psalm 5:3
4.

    
I am yours; save me
. Psalm 119:94
5.

    
Create in me a new heart O God, and renew a steadfast spirit within me
. Psalm 51:10
6.

    
God is my refuge and strength, an ever-present help in trouble.
Psalms 46:1
7.

    
Be still and know that I am God.
Psalm 46:10
8.

    
Speak Lord for your servant hears
. 1 Samuel 3:9
9.

    
God, have mercy on me, a sinner.
Luke 18:13
10.

 
In you, Lord, my God, I put my trust.
Psalm 25:1
Do you have a favorite simple prayer from the Bible?