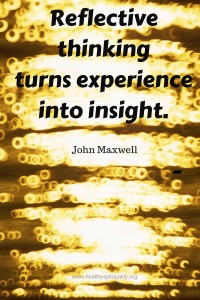 December's Spiritual Practice – This Week: the Daily Examen
In December, we are looking at the spiritual practice of reflection and today will look at one way this practice, the Daily Examen, can be implemented each day.
Remember the spiritual practice of reflection gives meaning to our lives, helps us see God's presence in the details, grounds us with landmarks on our journey and enables us to let go of what holds us back in life. It's like hitting the pause button at regular intervals.
You can review the overview of this practice and see how I practice reflection on a monthly basis on last Thursday's Tending the Holy post.
Living an examined life, a reflective life, involves daily, weekly, monthly and yearly connecting points where we pause and review a particular time period. This can be done on a daily basis by using what is called the Examen of Conscious or Daily Examen. 
The Daily Examen
The Daily Examen is a technique of prayerful reflection on the events of the day in order to detect God's presence in our moments and discern his direction for us. Where did we experience God that day?
The Examen is an ancient practice in the Church that can help us see God's hand at work in our whole experience. It originates with St. Ignatius.
You can read more about the background of this prayer and some great resources technique on the St Ignatian website.
Steps of the Daily Examen
The simple steps of this prayer are:
Quiet yourself. Allow yourself to relax into God's loving arms. Some people imagine sitting on the sofa with God.
Ask God to be present with you.
Reflect on the past 24 hours, asking yourself several questions.  My favorite questions to ask are: What am I most grateful for? What am I least grateful for? When did I feel most alive today? When did I most feel life draining from me?  When did I feel God's presence today? When did I feel the furthest from Him?
End the prayer time with thankfulness to God.
To be honest, when I first began this practice, I assumed I would have an endless list of things I was ungrateful for – those low points of the day that overshadow our souls and drag us into discouragement. I thought I would have to really dig through all the daily muck to find any nuggets to hold up in gratitude.
I was wrong.
The opposite occurred.
I look back upon my day and moments of mercy, glimpses of grace, and golden gems of goodness are easily found. Many times I can answer the second question and name the shadows that steal joy from my day, but surprisingly they dim and disappear in the light of gratitude.
This spiritual practice helps me refocus on God and His movement and presence in my life. Daily Examen guides us to reflect and see God's love in every ordinary nook and cranny. Reviewing the low moments often points us to areas that need healing and further growth too.
Dennis Hamm, calls the Daily Examen "rummaging for God." He writes it is like:
"going through a drawer full of stuff, feeling around, looking for something that you are sure must be there."
Isn't that a great image?
How do you rummage for God on a daily basis? How do you practice the Daily Examen?